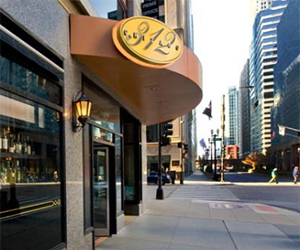 312 Chicago Restaurant
Cuisine Type: Italian
Address: 136 N. LaSalle Street at W. Randolph, Chicago, IL 60602 –  Adjacent to Hotel Allegro Chicago
Phone: 312-696-2420
Web Site: http://www.312chicago.com/
Hours of Operation:
Monday 7am – 10am and 11am to 3pm
Tuesday to Friday 7am to 10am and 11am to 10pm
Saturday 8am to 11am and 4.30pm to 10pm
Sunday 9am to 3pm (brunch); 11am to 9pm (bar) and 4.30pm to 9pm
Reservations: Suggested
Payment Methods:  Cash, Visa, Master Card etc..
Best Known For – (Caciucco Livomese a spicy tomato broth with sautéed clams, mussels, shrimp, scallops, tuna and lobster.)
Cost / Price – $17 – $32
312 Chicago Restaurant Review:
Situated adjacent to Hotel Allegro Chicago on the Loop, 312 Chicago restaurant has won many admirers with its warm and welcoming ambience and its creative and an authentic Italian menu. The burden for offering an irresistible combination of culinary delights goes to Chef Luca who possesses exceptional talents and passion for creating authentic Italian food at 312 Chicago restaurant. Born and brought up in Italy, Chef Luca transports the authentic flavors of Italy right to the heart of downtown Chicago. The chef and his team inspire to create the finest with some of the most exquisite range of ingredients that result in a delightful array of simple yet classy and sumptuous culinary delicacies at 312 Chicago restaurant.
A visit to this sophisticated, classy and elegant 312 Chicago restaurant is guaranteed to please your palate with its range of carefully prepared mouthwatering dishes. Start with a steaming bowl of soup such as the sumptuous Tortellini in Brodo, a savory chicken broth with cheese filled tortellini, carrots, celery and onion. You can team up your soup with a refreshing Mista salad, a delectable mix of 100% organic mixed greens, tomatoes, carrots, cucumbers and red wine vinaigrette. At 312 Chicago restaurant, the starters will surely whet your appetite and create an irresistible temptation for the main course.
Rigatoni Bolognese, a combination of ground veal, pork, beef, red wine and tomato is quite a delectable choice and a favorite with most ardent meat lovers. For those who enjoy experimenting must try Bucatini, a mix of sautéed octopus, shrimp, ground onion, celery, tomatoes, carrots, anchovies and garlic at 312 Chicago restaurant.  Alternately, those who prefer something more conservative can opt for Pollo, a roasted farm chicken breast with crispy leeks, onion farro and parmesan butter or Filleto, which is a grilled beef tenderloin with wild mushrooms, truffle butter and fingerling potato.
Seafood lovers at 312 Chicago restaurant should not miss Caciucco Livomese, a spicy tomato broth containing sautéed clams, mussels, shrimp, scallops, tuna and lobsters. Complimenting an exquisitely prepared meal is always a fine with bottle of wine. You can choose your favorite red or white from the 312 Chicago restaurant's extensive wine menu list. The 312 Chicago restaurant's special Sunday brunch is also something to look forward to since the brunch does promise to make your Sunday extra special. From enjoying an elaborate buffet of splendid Italian specialties to digging into a range of sumptuous desserts, the 312 Chicago restaurant revels in pampering one's taste buds. Whether you are on a business or a leisure trip, a visit to 312 Chicago, an exclusive Italian restaurant is without a doubt a must visit.

Comments
comments