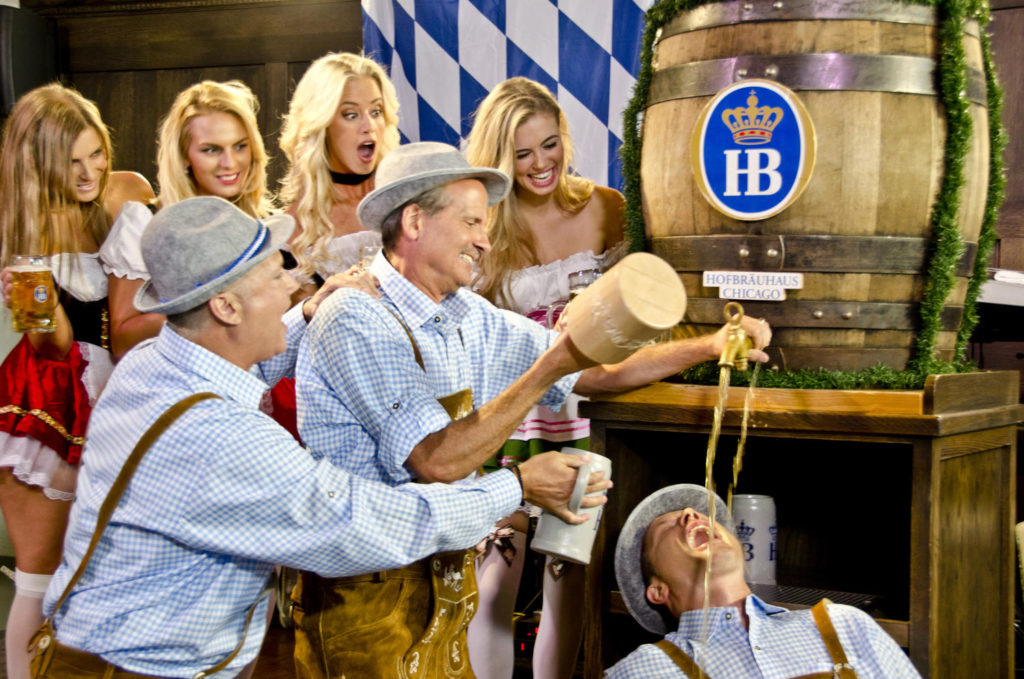 Oktoberfest is one of the largest beer festival held annually in Munich, Bavaria, Germany. It's over two weeks long festival that starts mid September through first week of October. Let's celebrate Oktoberfest and welcome fall season! Following are few Oktoberfest around Chicagoland for reference. Plan on visiting one of these Oktoberfest celebration if you are in the area
Oktoberfest Chicago
Date: September 29 through October 1st, 2017
Time: Friday: 5pm – 10pm; Saturday: 11am – 10pm; Sunday: 11am – 7pm
Location: 1429 W Wellington Ave, Chicago IL
Admission is $5 before 5pm, $10 after 5pm.
It's time to celebrate German heritage, Chicago style! – Enjoy bratwursts, cold beer and music at Oktoberfest! It is located by St Alphonsus Church at the corner of Lincoln, Wellington and Southport in South Lakeview.
Free for Active Military and Veterans with a Military ID
Glendale Heights Oktoberfest
Date: September 14th – September 24th 2017
Time: Monday – Thursdays: 5pm – 10pm; Fridays: 5pm – Midnight; Saturdays: Noon – Midnight; Sundays: Noon – 10 pm
Location: Camera Park in Glendale Heights – 101 E Fullerton Ave, Glendale Heights, IL 60139
Admission Fee: Adults – $5.00 (After 4pm); Children (16 & under) FREE
Enjoy authentic German food from famous Schnitzel Platz Restaurant and Oktoberfest bier from the Hofbrau Brewery in Munich! Time to enjoy food and live entertainment and many family friendly activities at Glendale heights Oktoberfest
Oak Brook Park District Oktoberfest
Date: September 23, 2017
Location: Central Park located at 1500 Forest Gate Road, Oak Brook
Time: Noon through 8pm
Enjoy 7th annual Oak Brook Park District Oktoberfest. Celebration features a softball tournament, live music, food and beer. Festival will hold many kids friendly activities between 1pm through 5pm
Oak Park Oktoberfest
Date: September 15 through September 16, 2017
Location: Marion Street and North Blvd in Oak Park
Celebrate the changing seasons at Oktoberfest in Downtown Oak Park. Enjoy a premier music line up, delicious fall foods from local restaurants, specialty craft beers, and a Kids' Root Beer Garden. You can also consider to have fun at Berwyn's Depot District for Oktoberfest.
Hofbrauhaus Brewery Chicago
Address: 5500 Park Place, Rosemont, IL
Date: September 15th through October 29, 2017
Enjoy oktoberfest bier collection with special food! Celebrate Oktoberfest starting September 15th through October 29 with fun games, celebrity keg tapping, live music and more. I recommend you to reserve in advance as you may not get a spot. Hofbrauhaus has special food menu and Oktoberfest bier menu throughout the fest! So join to celebrate Oktoberfest and welcome fall season!
Visiting Chicago Soon? Book Your Trip Today at:
- Flights: Priceline, Travelocity, STA Travel (under 26)
- Hotels: Booking.com , Hotels.com, Expedia.com, Tripadvisor, Priceline
- Car Rentals: Hertz, Zipcar, Budget
- Attraction Passes: Go Chicago Card, Chicago City Pass, Book the Best Tours on Viator‎
- Buy Chicago souvenir items: Chicago Bears Fan Shop, Chicago Cubs Fan Club, White SOX Fans, Chicago Blackhawks Fans
- Food Specials: Chicago Steak Company, Chicago Pizza, Chicago Hot Dogs, Restaurant.com
Comments
comments