Chicago 1 Day Itinerary – Chicago in One Day
First and most important thing I would recommend you to start your trip with Chicago downtown if you are on 1 Day trip. As we all know the challenge of getting a parking in Chicago downtown, I would recommend you to use public transportation instead of having your personal car or car rental. I am sure you don't want to spend tons of money just on parking. So people, get ready to use public transportation. Chicago has the best local transportation in entire Midwest region. Hmmm… 🙄 I would say in United States. No matter where you are, start your journey by catching Green, Orange, Brown, Purple or Red Line. If you are taking Green, Orange, Brown, Blue or Purple line then you need to exit at Adams station. For all Red Line travelers need to exit at Jackson. Metra train is also a good option if you are starting from suburbs. Metra train travelers need to exit at the last station: Union Station or OTC station.
1. Willis Tower Skydeck
Start your day with the world famous Willis Skydeck tower, formerly known as Sears Tower. I would say that No trip to Chicago can be completed without experiencing the "7 wonders of Chicago"- the tallest building in entire western hemisphere. Sounds exciting isn't it? You will be more excited and thrilled when you watch the 360 degree view from the top. Yup, you will be able to view four states from the top of the tower. In 2009, newly opened glass bottom thriller skydeck has its own impression on tourist.
Address: Willis Tower Skydeck – 233 S Wacker Dr, Chicago, IL – (312) 875-9696
QUICK TIPS:
Go Chicago Card – Smart Way to See Chicago



Save up to 55% on admission to all the top Chicago attractions and tours with a Go Chicago Card discount attractions pass. Save money and skip lines !
Check out my list of Go Chicago Card Promotional offers !!!
2. The Art Institute
The Chicago Art Institute is located right across from the Chicago Architecture Foundation. If you are on one day tour then you must visit this museum to take advantage of world renowned galleries. Among all galleries do not miss to visit European and American contemporary art galleries.
Address: The Chicago Art Institute – 111 S. Michigan Ave., Chicago, IL – (312) 443-3600
3. Chicago Architecture Foundation Tour
Chicago offers world famous architecture. And without a doubt, if you are interested in knowing the revolution of Chicago's architecture then Chicago Architecture Foundation is your gateway to the knowledge. You can start your tour by going through the orientation center featuring the large scale model of downtown Chicago and explores the innovative ideas behind today's one fine well shaped Chicago. You can select the tour of your choice – Walking or boat tour. If you are traveling with kids then I would recommend river boat tour to avoid walking hassle. Hop on the boat and go around the downtown and learn the architecture history.
Address: Chicago Architecture Foundation – 224 South Michigan Avenue, Chicago, IL – (312) 922-3432
4. Millennium Park
Once you are done with Art Institute then go little north to Millennium Park. Millennium Park is the place where everybody loves to get together and have fun. Especially kids love it! Do you know why? Kids love the huge video-screen faces with fountain.  Kids can easily have fun time dancing in the fountain. Fountains will be closed during winter. But, my 5 cents, visit bean-shaped sculptures desinged by Anish Kapoor before you go for the fountain. You MUST see the bean.
Address: Millennium Park – 201 East Randolph Street, Chicago, IL – (312) 742-1168
Break Time
Well, If you are visiting Chicago during summer then either you can choose to sit in the Millennium park and enjoy your snacks/food or go to any restaurant or fast food place to quench your thirst and hunger. But all winter vacationers do not have choice of eating outside in the park. You have to find some warm place to eat and you can only get it at restaurants.
5. Michigan Avenue Bridge
Time to capture memories… Yup, walk further north on Michigan Avenue and stop at the Chicago River Bridge. On a nice day you will see other vacationers taking pictures on the bridge.
Address: Michigan Avenue Bridge – N Michigan Ave, Chicago – (312) 744-9050
6. The Magnificent Mile
Michigan Avenue offers 14-block wide area for people watching. Magnificent Mile is stretched from the river to Oak Street. Magnificent Mile is famous for shopping. You can take advantage of malls, boutiques and other small clothing brands. Whether you want to spend money buying cloths or not but stroll on the street will make your day full of energy and fun. It's fun to get into the energy of vibrant metropolitan city.
Address: 14 Block on Michigan Avenue between Michigan Avenue Bridge to Oak Street
7. Oak Street Beach
Head north of Magnificent Miles and you will hit the Oak Street Beach. Oak Street beach is one of the most popular spots of Chicago. To be honest, it's the most popular people watching place. From spring to fall season time oak Street Beach is always crowded with skaters, bikers, sunbathers and tourists. You will see people enjoying sunbath on sandy beach as well as concrete area. You can spend time on the beach until it gets little dark or twilight time.
8. John Hancock Center – Signature Bar & Lounge
If you are not traveling with kids then you might want to consider John Hancock Signature Bar & Lounge located on 97th floor. You can have couple of drinks. Just beware drinks will cost more on 97th floor compare to ground floor. 🙂 But it is worth spending as you will be amazed with night view of Chicago from 97th floor.
Address: John Hancock Centre – 875 North Michigan Avenue, Chicago, IL – (312) 751-3680
Chicago 1-Day Itinerary Map for Understanding: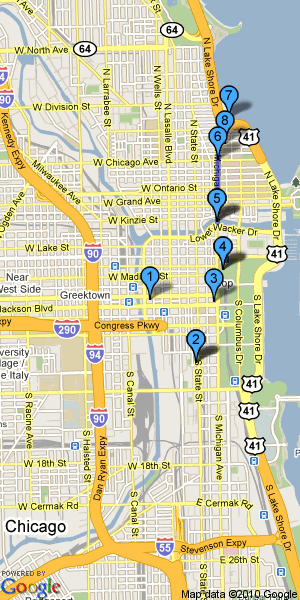 Related Chicago Itineraries:
Comments
comments