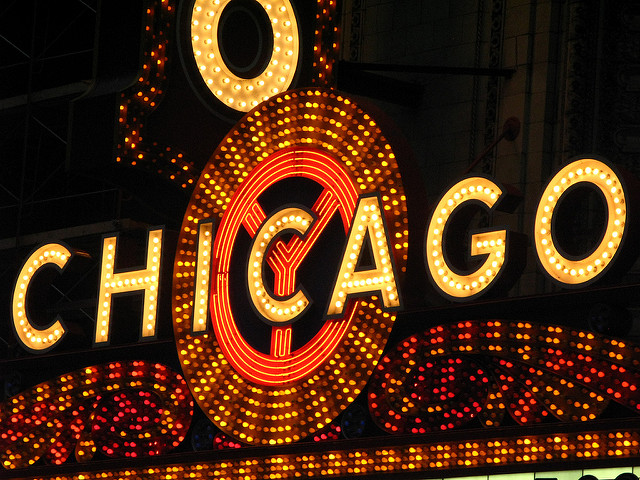 Monday Night Karaoke
Monday, Nov 28, 10 p.m. – Ongoing
Address: 702 N River Road, Mt Prospect 60056
847-298-7200 | http://www.whiskeyriverchicago.com/
Get ready to have fun at Whiskey River BBQ & Honky Tonk with KJ Shane Murphy. Show starts from 10pm and ends at 3:00 am. You can enjoy Karaoke with drinks at reasonable price. You can consider to enjoy dinner before the show. Food is not bad at all.
Finding Neverland (Chicago)
Tuesday, Nov 29, 30 07:30 PM
Address: Cadillac Palace Chicago, IL
Buy Tickets @ Ticketmaster
Take advantage of best musical, Finding Neverland, this coming November 29th and November 30th This musical show has been on TIME magazine and Vogue. TIME magazine says "captures the kid-at-heart" and Vogue says "It's a must-see you'll remember for years to come!".
In Flames at House of Blues Chicago
Wednesday, Nov 30, 6:30 pm
Address: 329 North Dearborn Street, Chicago, IL
Buy Tickets
Enjoy the music of Swedish heavy metal band, known as melodic death metal. In Falmes concert is scheduled to happen at 6:30 pm at House of Blues Chicago.
Trivia & Bingo Night….
Wednesday, Nov 30, 10 p.m. – Ongoing every Wednesday
Address: Beauty Bar – 1444 W. Chicago Ave., Chicago IL
Groups of 3-5 people can enjoy the Trivia & Bingo Night at Beauty Bar this Wednesday. Bingo is every person for themselves! This event is scheduled to happen every Wednesday. You can enjoy the great music as DJ spin tunes till close. You may be lucky to win awesome dinner packages, gift certificates and concert tickets.
Against Me!
Friday, Dec 2, 2016
Address: Wilson Abbey – 935 West Wilson Avenue, Chicago, IL
Against Me! – Punk rock band founded in 1997 by singer and guitarist Laura Jane Grace in Florida. On December 2nd she will be reading and signing her new book, "Tranny: Confessions Of Punk Rock's Most Infamous Anarchist Sellout."
Odyssey December Holiday Cruises – Crystal Nights Dinner Cruise
Friday, Dec 2, and Dec 3 2016, 6:00 PM
Address: Navy Pier 600 East Grand Avenue, Chicago, IL
Book Holiday Cruises @ Odyssey
Odyssey December holiday cruises are best to celebrate holidays with fine dining, dance and elegant views of Chicago. Odyssey holiday cruises also include – Silver & Sparkle lunch cruise on select dates in December.
Avery Sunshine
Saturday, Dec 3, 7:30 PM
Address: UIC Forum, Chicago, IL
Buy Tickets @ TicketMaster
Enjoy your evening with Avery Sunshine's musical concert. She has been very famous for her excellent voice and seamless concert shows. You will enjoy every single moment at her concert. I must say her energy, emotion and voice is marvelous – once you go for her concert, you might end up attending every single concert whenever she is in our town.
Jesse & Joy Concert
Un Besito Más US Tour
Saturday Dec 3, 9 – 11 pm
Address: Copernicus Center
Buy Tickets @ Stub Hub
The critically acclaimed Mexican – American duo Jesse & Joy recently landed their fourth #1 iTunes Global Single with the Spanish language single, " Dueles ." They also crossed the pond with their first English language singe "Echoes of Love" and returned triumphant with BBC Radio 2 adding the single which debuted at #66.
They are currently on their headlining tour of Latin America in support of their fourth studio album, platinum selling " Un Besito Más " which includes Spanish radio hits " Ecos de Amor" and "No soy una de esas" (feat. Alejandro Sanz), as well as current top 5 Track and #1 single in both Chile and Mexico, "Dueles"
Chuckie @ Prysm in Chicago, IL
Saturday, Dec 3, 2016, 7:00 PM
Address: PRYSM Nightclub – 1543 North Kingsbury Street, Chicago, IL
Clyde Sergio Narain from Aruba, known as Chuckie. He developed music known as "Dirty Dutch" featuring high pitched lead synths over Latin inspired rhythms.
Comments
comments