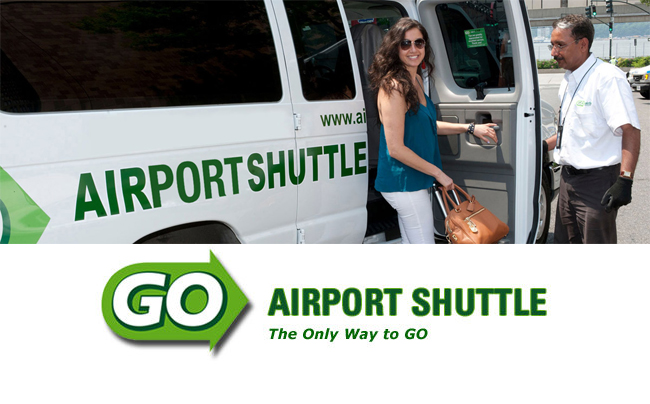 Among all Chicago airport shuttle services, I recommend Go Airport Shuttle Service considering quality of service! Why? Oh well, who wouldn't want hassle free transportation to Airport when you have to catch a flight! I must say it is one of the most reliable airport shuttle service nationwide. GO Airport Shuttle service over 90 airports worldwide with Chicago's O'Hare and Midway international airports being two of them!
Book Airport Shuttle Now!
Go Airport Shuttle Chicago Information
Go Airport shuttle so called "Go Airport Express" is one of the best ways to get to the airports in Chicago. Go Airport shuttle offers different kinds of services such as private van service, O'Hare (ORD) airport shuttle service, Midway (MDW) airport shuttle service including limousine and sedan serices throughout Chicago. If you are looking for shuttle service to McCormic Place or downtown Chicago hotel shuttle bus service, then Go Airport Shuttle is one of the best services. In my opinion, Go Airport Shuttle is reliable option to get to your hotel or home from O'Hare and Midway airport. It will cost you
If you are staying one of the hotels in downtown Chicago then I would say considering the time of travel during peak hours, Go Airport Shuttle service might be cheaper compared to Uber for transportation to O'Hare and Midway airports from downtown Chicago hotels. Their shuttle and private car services to/from O'Hare International airport and Midway airport are available 7 days a week, 365 days a year. At airports Go Airport Express has special permission to load on the inner curb, outside of baggage claim at airports, that makes easier for passengers to get to the airline provider without a long walk.
Go Airpot Shuttle Chicago Cost
Chicago shuttle trips start at $25 to/form airports. Rates might vary based on number passengers. If you are traveling in group then you can get Shuttle Direct (Private Ride) for up to 9 passenger(s) for $157. I recommend to book Go Airport shuttle direct (private ride) if you are group of 5 or more people. You wil definetly save money!
Book Airport Shuttle Now!
Go Airport Shuttle Service Area
Go airport shuttle service provides transportation to downtown Chicago including all hotels in downtown Chicago. It also provides transportation service to Lincoln Park and surrounding suburbs including all the way up nort upto Great Lake Naval Station.
Overall, Go airport shuttle service is one of the best ways to save money on airport transportation in Chicago by sharing ride!
Book Airport Shuttle Now!
Visiting Chicago Soon? Book Your Trip Today at:
- Flights: Priceline, Travelocity, STA Travel (under 26)
- Hotels: Booking.com , Hotels.com, Expedia.com, Tripadvisor, Priceline
- Car Rentals: Hertz, Zipcar, Budget
- Attraction Passes: Go Chicago Card, Chicago City Pass, Book the Best Tours on Viator‎
- Buy Chicago souvenir items: Chicago Bears Fan Shop, Chicago Cubs Fan Club, White SOX Fans, Chicago Blackhawks Fans
- Food Specials: Chicago Steak Company, Chicago Pizza, Chicago Hot Dogs, Restaurant.com
Comments
comments