Taco Joint in Lincoln Park – modern taco place serving traditional Mexican food. Name says it, tacos are their specialty. It was not easy to find a parking spot near the restaurant, after all it is in the heart of Lincoln Park. If you are driving then be ready to walk as it might be difficult to find a parking spot on the street near Taco Joint restaurant. For those who don't want to waste time finding a parking spot, can utilize paid parking garage located at 1933 N. Halsted Garage . I recommend you to use ParkWiz or SpotHero for finding a cheaper parking deal around Taco Joint in Chicago.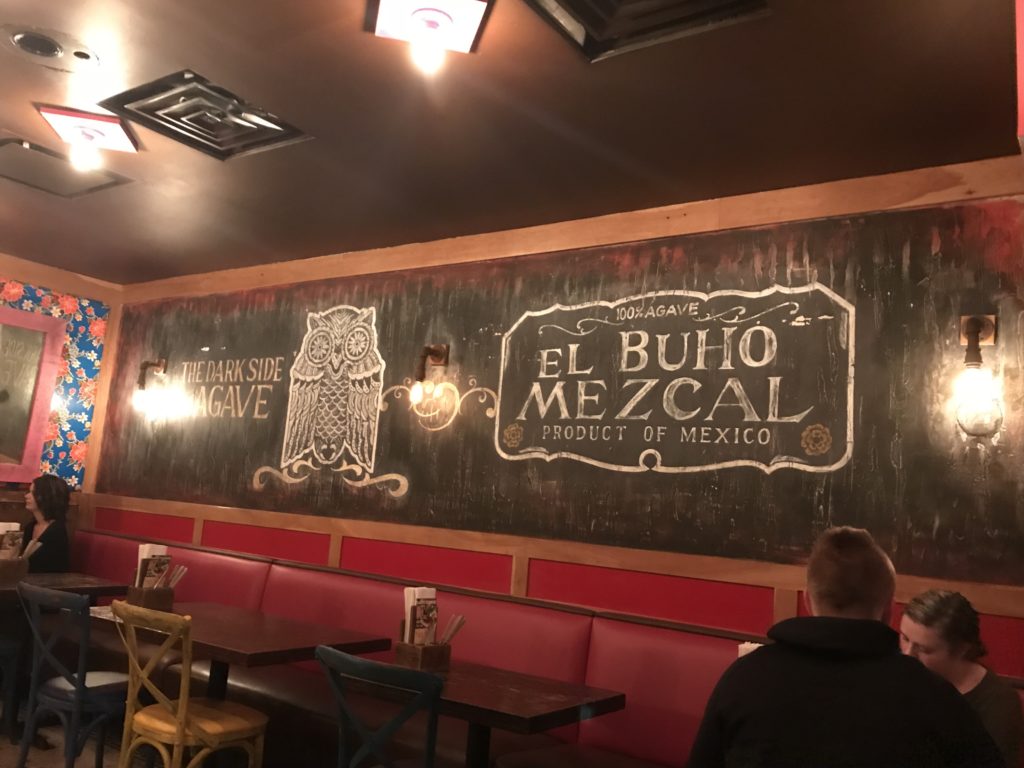 Have you been to Taco Joint Mexican restaurant in Lincoln Park? Click here to share your review about Taco Joint here!
At Taco Joint, you can either choose to sit at the bar or inside for table dining. Taco Joint has very unique fusion ambience, kind of gloomy cozy bar. Overall place is very welcoming and friendly. Taco Joint restaurant is very well decorated, I liked the OWL painting with Spanish writing on the wall that says "El Buhho, Mezcal – Product of Mexico". The interior featuring natural wood accents filled with colorful walls that give you the feel of a small town in Mexico
It was my first time at Taco Joint Mexican restaurant, so I asked our server, Rachel, about the menu. She explained the menu in detail and shared information how some of those dishes are made. Overall, very fast and good customer service.
Drink menu at Taco Joint restaurant in Lincoln Park is pretty extensive, featuring traditional Mexican Margaritas and many other drinks. It was lunch time so I ended up ordering Corona Extra. Their food menu is mainly focused on Tacos, Tortas, Antojitos, Soup and sides. I must say, you shouldn't think of anything other than tacos at Taco Joint restaurant. It's not expensive either, each taco will cost you $3 to $4. As in general three tacos are good enough for one person.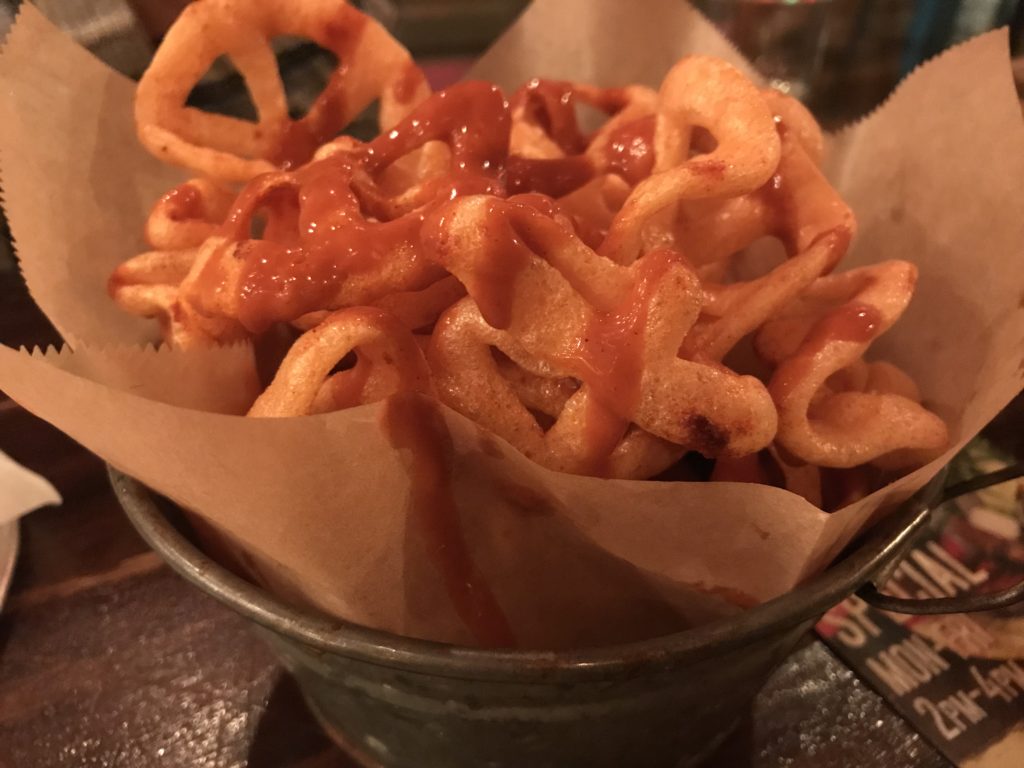 We ordered two Rajas tacos, one Al Pastor taco, one Chicken Tinga taco, and couldn't resist to order battered shrimp taco from the daily special menu. We also ordered Chicharrones from Antojitos menu. Antojitos means traditional Mexican street snack foods. Chicharrones is street snack, made with house friend flour rinds, ancho chile, and lime valentina hot sauce poured on top. To be honest, It was not a good start at all with Chicharrones. I was disappointed with the strong sour sauce. I believe the lime valentina hot sauce was very sour. I was expecting something spicy but less sour.
My all tacos were really good though! I would say Chicken Tinga and Rajas tacos were my number one when it comes to taste. I would rank battered shrimp taco second and Al Pastor taco third. Chicken Tinga and Rajas tacos were like the same authentic tacos that you get in Mexico.
Rajas taco is vegetarian dish, made with creamy tomatillo poblano pepper and onion with black bean salsa and topped with cheese.
Chicken Tinga Taco was not fancy but tasty! It was made with pulled shredded chicken, chipotle tomato sauce, cabbage with avocado salsa.
Al Pastor taco is a good choice only if you like the sweet taste of pineapple in taco. I like my tacos little bit spicy. Al Pastor taco is made with grilled chicken, tomatillo salsa, onion, cilantro and grilled pineapple.
Battered Shrimp taco caught my attention as it was made using beer battered shrimp and pico de gallo along with cilantro. Kind of different experience as I never had battered shrimp taco. Not bad at all!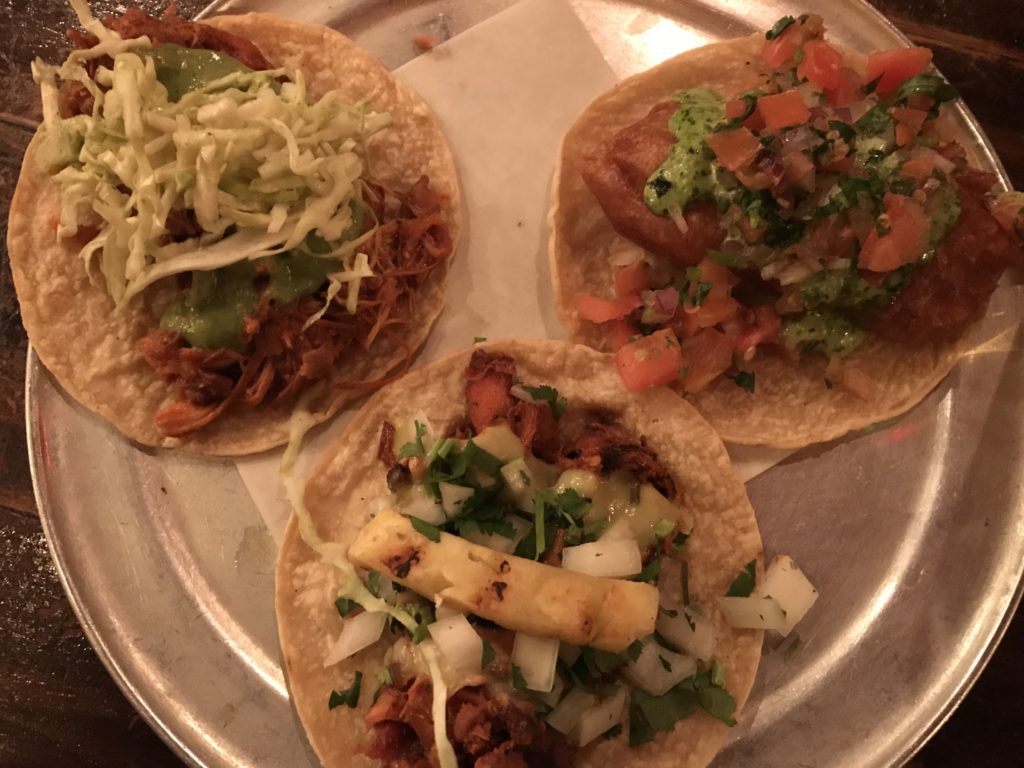 You can save money on Monday through Friday between 2:00 PM to 4:00 PM. You can get two tacos of your choice with rice "N" beans and choice of one drink, either Margarita or Modelo Especial beer can for only $12. Good deal haa!
Overall, it was amazing experience eating authentic Mexican Tacos at Taco Joint restaurant in Lincoln Park. They are other two locations, second location in River North and third Taco Joint in THE SHOPS at NORTH BRIDGE on 4th floor in downtown Chicago.
Taco Joint restaurant in Lincoln Park is located at 1969 N. Halsted St. Chicago, IL 60614. Don't forget to check my quest for the best Mexican restaurants in Chicago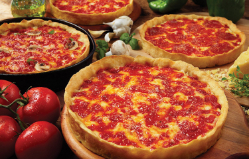 Order Lou Malnati's Chicago Style Deep Dish Pizza from Anywhere ...
Do you love Chicago style Pizza? Are you outside of Illinois?...ummmm may be moved to California? or Seattle?... Nothing to worry, you can still get Chicago style Pizza from Lou Malnati's !
Yes, now you can get Lou Malnati's Chicago-style Deep Dish Pizzas anywhere, far away from our sweet windy city!
All Lou Malnati's frozen deep dish pizzas are hand-made from scratch, baked and quickly frozen to preserve their hot out of the oven freshness and flavors!
We Chicagoans love deep dish pizza as much as we love our Chicago!
Order Frozen Lou Malnati's Chicago-Style Pizzas
Comments
comments