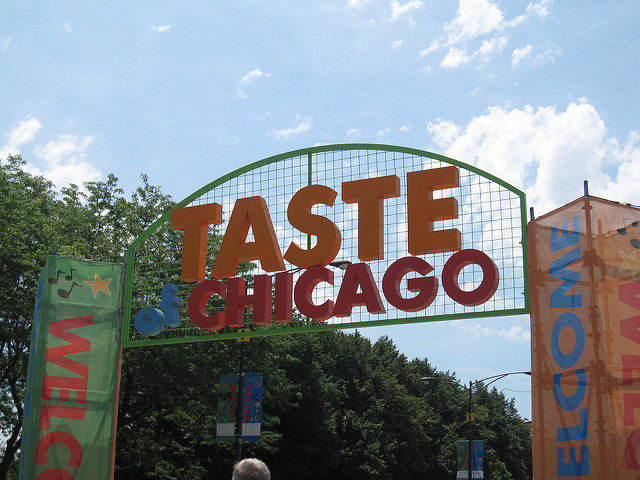 Plan a visit to 37th annual Taste of Chicago 2017 festival that has started on Wednesday July 5, 2017 and will end on July 9, 2017. Taste of Chicago festival is the best way to enjoy different kinds of food and cultural activities.
Where & When
Address: Grant Park in downtown Chicago. – Festival is held between Lake Shore Drive, Monroe Street, Michigan Avenue and Balbo Drive.
Hours of Operation: Wednesday July 5 through Friday July 7 from 11:00 am to 9 pm, Saturday July 8 and Sunday July 9 – from 10 am to 9 pm
Admission
Admission to Taste of Chicago 2017 festival is free. You can purchase 14 tickets for $10 for food and drinks. Management stops selling tickets for food and drinks at 8:30 pm.
You can enjoy free performances at Bud Light Stage or performance at the Petrillo Music Shell from lawn seating in Butler Field.
If you are looking to attend performances at Petrillo Music Shell then you will have to purchase tickets for seating.
How to get there
I highly recommend you to utilize public transportation to get to the downtown Chicago. CTA and Metra trains are the best way to get there as streets will be super crowded and there are chances that you may get stuck in traffic for hours. During taste of Chicago festival, CTA and Metra increases frequencies on all trains going towards downtown Chicago.
In my opinion, L trains are best options if you are living in the city. Chicago's El-trains are easy way to get to the Grant Park from anywhere in the City. Use Metra trains only if you do not have L trains options from suburbs.
If you are going to use Green Line, Brown Line, Orange Line, Pink Line or Purple Line then get off at Adams/Wabash station and walk couple of blocks to get to taste of Chicago.
If you are planning to use Blue Line or Red line then get off at Jackson and walk few blocks to get to the Grant park.
Still if you decide to drive then you can utilize one of the Millennium Park, Millennium Lakeside, Grant Park North and Grant Park South garages for parking your car. You can save money when you reserve a parking spot through ParkWhiz. I always use ParkWhiz to reserve a parking spot in downtown Chicago.
I DO NOT RECOMMEND YOU to drive at all in downtown during the taste of Chicago event !
What to Expect at the Taste of Chicago 2017
This year at taste of Chicago total of 34 5-Day Restaurants, 16 Pop-up Restaurants and 16 Food Trucks will be serving delicious menu items. So, make sure to go there super hungry!! In my opinion, if you are busy during weekdays then plan at least a full day visit during weekends.
Starting this year, you can purchase soft drinks, beer and wine can be purchased using Taste of Chicago tickets or credit cards.
Whenever I go to food festival, I do not watch calories or kind of food that I am eating. But, if you are looking for healthier menu items then look for green color sign with letter "H"
Apart from food, there are several music performances and activities are scheduled starting from July 5th through July 9 for adults and kids.
The Celebrity Chef du Jour dining event is a good option for those who are looking to taste Chicago's some of top chefs. This sit-down dining experience includes three-course meal in dining pavilion beside Buckingham Fountain.
You can buy Celebrity Chef du Jour or Petrillo Music Shell Concerts tickets from Taste of Chicago website!
Family with kids can consider to attend one of the family fun activities. Following are list of scheduled family fun activities at the Taste of Chicago 2017
Kids Eat Chicago – July 8, 2017 – 10am-7pm
American Girl Cafe Brunch – July 8, 11:30 am, Delicious dining for girls and dolls
Eli's Cheesecake Birthday Celebration – July 8, 2017 – 12:30 pm – Complimentary cheesecake with a Cirque du Soleil performance.
Kids' Dash – July 9, 10 am – Fun run for kids under 12.
5-Day Restaurants list at the Taste of Chicago 2017
Beat Kitchen – Empanada (Chicken, Beef, Chorizo or Veggie); Veggie (Vegan) Burger
Billy Goat Tavern & Grill – Cheeseburger; Ribeye Steak Sandwich
BJ's Market & Bakery – Mustard-Fried Catfish; Fried Dough; House-made Potato Chips; Peach Cobbler
Caffe Gelato – Gelato Cup (Peanut Butter w/ Brownie Chunks or Italian Vanilla w/ Chocolate Chips); Sorbet Cup (Lemon or Strawberry)
Carbon Live Fire Mexican Grill – Tequila Lime Marinated Grilled Chicken Taco; Premium Fire Grilled Steak Taco
Chicago's Hot Dog – Smoked Alligator Sausage; Classic Chicago Style Hot Dog; The Original Maxwell St. Polish Sausage
Churro Factory – Churro; Funnel Cake; Churro Sundae
Connie's Pizza – Deep Dish Sausage Pizza Slice; Deep Dish Cheese Pizza Slice; Frozen Chocolate Covered Banana; Italian Ice (Watermelon or Lemon)
Dia De Los Tamales – Wide range of Tamales including Slow Roasted Cuban Pork Tamale w/Cuban Fricase; Spicy Black Bean & Corn Tamale w/Salsa Roja (Vegan)
Doom Street Eats – Bacon Ranch Mac & Cheese Grilled Cheese; Chipotle Chili Beer Cheese Nachos (Vegetarian); BBQ Pulled Pork Sliders
Farmer's Fridge – Avocado Toast; Watermelon; Southwest Salad
Franco's Ristorante – Lemon Italian Ice; Watermelon Italian Ice
Frannie's Café Inc – Italian Beef Sandwich; Italian Sausage Sandwich; Italian Ice (Lemonade or Mango)
Gold Coast Dogs – Chicago Style Hot Dog or Plain; Pickle on a Stick
Iyanze – Jerk Chicken; Banana Hot Bunz & Vanilla Ice Cream
Kasia's Deli – Potato Pierogi; Cheese or Blueberry Blintz (Crepe) w/Chocolate Sauce & Whipped Cream
La Bomba Restaurant – Taste of Jibarito; Alcapurria (Banana Dumpling)
La Mexicana – Watermelon Paleta; Mini Strawberry Paleta
Lawrence's Fish and Shrimp – Popcorn Shrimp; Corn Fritters
Lou Malnati's Pizzeria – Malnati Salad; Bruschetta, Pizza
Miller's Pub – BBQ Pork Slider; Whole Jumbo Pickle
Oak Street Beach Café – All Natural Smoked BBQ Brisket Style Turkey Slider and Garlic Potatoes
O'Briens Restaurant & Bar – Corned Beef Sandwich; Celtic Corn on the Cob; Sweet Potato Fries
Porkchop – Pulled Pork Slider; Pulled Chicken Slider
Punky's Pizza & Pasta – Fried Ravioli; Eggplant Parmigiana Sandwich; Fried Oreos®
Ricobene's on 26th Street – Italian Breaded Steak Sandwich; Fresh Cut Fries w/Cheese
Robinson's No. 1 Ribs – BBQ Ribs; Hot Link
Star of Siam – Pot Stickers; Pad Thai Noodles
Texas de Brazil – Brazilian Sausage; Chicken Wrapped w/Bacon
The Eli's Cheesecake Co. – Original Plain Cheesecake; Lemon Mixed Berry Cheesecake
The Fudge Pot – Fudge (Chocolate Plain, Chocolate Walnut, or Maple Plain); Chocolate Covered Oreo®
Tuscany – Sausage Sandwich; Toasted Ravioli
Ukai Japanese Restaurant – Different kinds of Dumplings and Yakisoba noodles
Vee-Vee's African Restaurant – Red Beans & Rice w/Jerk Chicken, Fried Plantain
16 Pop-up Restaurants list at Taste of Chicago 2017
Brightwok Kitchen – (Friday & Saturday ) – Homemade Chili Coconut Curry with Midwest ABF Chicken, Homemade Tahini Ginger Salad
MAD Social – (Wednesday) – Havarti Mac & Cheese; Seafood Ceviche
Jin Ju Restaurant – (Wednesday) – Chap Chae, Kimchi
Garifuna Flava: A Taste of Belize – (Wednesday & Thursday) – Panades, Fried Plantains

Rojo Gusano – (Wednesday & Thursday) – Korean BBQ Beef Taco
Broken English Taco Pub – (Thursday) – Taco
Puffs of Doom – (Thursday & Friday) – Salted Caramel Chocolate Puff; Bacon Ranch Mac & Cheese Savory Puff
Hakka Bakka Indian Kati Rolls – (Friday) – Chicken Tikka Kati Roll,, Sev Puri Chaat
Seoul Taco – (Friday) – Bulgogi Taco; Mini Spicy Pork Taco
The Little Beef Table – (Saturday & Sunday) – Cauliflower Hummus Bite; Cucumber Gazpacho Shooter w/ Toasted Marcona Almonds, Spring Garlic
Warm Belly Bakery – (Saturday & Sunday) – Hazelnut Chocolate Chip Cookie; Mexican Hot Chocolate Cookie
Yum Dum – (Saturday & Sunday) – Kimchi Cheese Fries; Mini Pork Belly Steamed Bun
Pork & Mindy's – (Saturday & Sunday) – Da Beef; Taste of Pig Candy
Just Salad – (Sunday) – Chipotle Cowboy Salad; Smokehouse Steak Wrap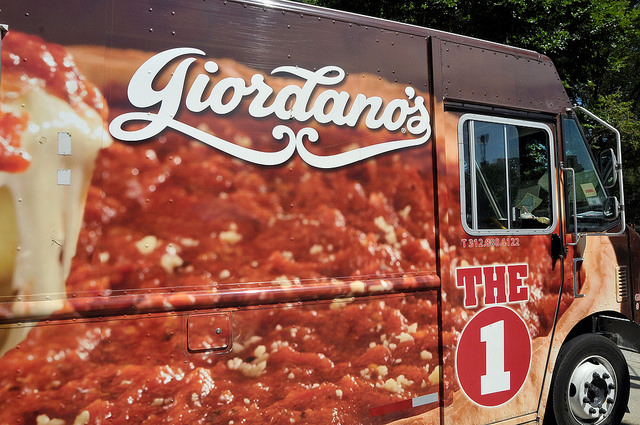 Food Trucks list at Taste of Chicago 2017
American Glory – (Wednesday, Thursday, Friday ) – Pulled Pork Sandwich; Bread Pudding
El Patron – (Thursday, Friday, Saturday, Sunday) – Steak Nachos; Pork Burrito; Steak Tacos
Auntie Vee's – ( Wednesday, Friday, Saturday, Sunday) – Bread Pudding Topped w/Ice Cream; Peach Cobbler Topped w/Ice Cream
Giordano's – (Wednesday, Friday, Saturday, Sunday) – Pizza
Aztec Dave's Food Truck – (Saturday) – Tacos
Harold's Chicken – (Thursday, Friday, Saturday, Sunday) – Chicken Wings
Beavers Coffee + Donuts – ( Wednesday, Thursday, Friday, Saturday) – Donuts
La Cocinita Food Truck – ( Wednesday, Thursday, Saturday, Sunday) – The Pork Pataconcito, Sandwich
Bop Bar Truck – (Friday, Saturday, Sunday) – Spicy Pork Rice Bowl & Meatball
Stan's Donuts & Coffee – (Wednesday, Thursday, Friday, Sunday) – Donuts
Bruges Brothers – (Wednesday, Thursday, Saturday, Sunday) – Beef & Duck Fat Frites
The Cajun Connoisseur – ( Wednesday, Thursday, Friday, Sunday) – Shrim n Grits, Lobster Mac n Cheese
Cheesie's Pub and Grub – (Thursday, Friday) – The Tenderizer; The Mac
The Fat Shallot – (Friday, Saturday, Sunday) – Grilled Cheese w/Caramelized Onions & Sautéed Spinach on Rustic Sourdough Bread
Da Lobsta – ( Thursday, Friday, Saturday, Sunday) – Lobster Mac & Cheese; Hush Puppies
The Lifeway Kefir Shop – (Wednesday, Thursday, Saturday, Sunday) – Original Frozen Kefir; Mango Frozen Kefir
Have fun at the Taste of Chicago Festival – Bon appetit !
Visiting Chicago Soon? Book Your Trip Today at:
- Flights: Priceline, Travelocity, STA Travel (under 26)
- Hotels: Booking.com , Hotels.com, Expedia.com, Tripadvisor, Priceline
- Car Rentals: Hertz, Zipcar, Budget
- Attraction Passes: Go Chicago Card, Chicago City Pass, Book the Best Tours on Viator‎
- Buy Chicago souvenir items: Chicago Bears Fan Shop, Chicago Cubs Fan Club, White SOX Fans, Chicago Blackhawks Fans
- Food Specials: Chicago Steak Company, Chicago Pizza, Chicago Hot Dogs, Restaurant.com
Comments
comments