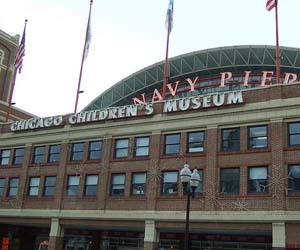 Chicago Childrens Museum Review & Discount Detail

Situated on the famous Navy Pier, Chicago Childrens Museum is a popular attraction with both kids and adults. If you are traveling to Chicago on a holiday with your family then a visit to this fascinating site makes it worthwhile. While your kids get to enjoy and learn a lot of new and interesting things, you get to revisit your childhood. The Chicago Children's museum features a number of permanent exhibits, programs and workshops.
QUICK TIPS:
Go Chicago Card – Smart Way to See Chicago



Save up to 55% on admission to all the top Chicago attractions and tours with a Go Chicago Card discount attractions pass. Save money and skip lines !
Check out my list of Go Chicago Card Promotional offers !!!
One of the most notable exhibits is the Dinosaur Expedition that displays a relic of the expedition to Sahara in 1997. It gives kids an opportunity to experience an expedition like environment and indulge in activities such as camping, scientific research and excavation where they can dig for the bones of the Saharian dinosaur Suchomimum.
The Inventing Lab, as the name suggests, allows your kids to use their imagination and skill to invent amazing little things. They can spend hours learning about inventions and enjoying challenging games. The Alarm Clock game challenges you to wake up the sleeping bear while in the Headhouse Tower you can design your own flying machine and see it fly.
The Kids Town at Chicago Children's Museum is literally a little town with a replica of a great neighborhood. This miniature town is built specially for kids aged five and younger. A host of fun and interactive activities makes it interesting and promotes learning among the little ones.
From an ideal neighborhood where your child can ride a little car or shop at the grocer's store, allow your child to experience something more unique at the Allstate Foundation Presents Play It Safe. Most kids are fascinated by a firefighter and here they get a chance to step into the boots of one and experience what it entails. The exhibit at Chicago Children's Museum features a realistic firehouse and comes complete with fire truck, command center and a fire pole. The kids get to learn about safety lessons while they play and have fun.
The Kraft Artabounds Studio is where you get to enjoy a fascinating array of works of art by families and children. The gallery showcases a range of stunning art pieces. The Big Backyard is where you will find a fusion of art and technology. It is an urban garden that features technology enhanced enormous insects, giant toadstools, flowers and a host of other amazing creations.
The exhibits don't end here because there is even the Koyler Family Climbing Schooner where kids can experience voyage to the bottom of the ocean and explore the tropical fish. Then they can get onto the rafters and soar through the tubes to the very top. At Chicago Children's Museum, there is even an exhibit known as the My Museum where the little ones can take a self-portrait or even choose to pass through a mirrored Kaleidoscope tunnel and see reflections of one's own and others.
All these amazing exhibits combine to make Chicago Children's Museum one of the most popular attractions of this sophisticated metropolis. Without a doubt, it offers an exciting and a fascinating experience to both adults and kids.
Discount or Coupon Detail
FREE Access With Go Chicago Card


Cost without the Go Chicago card:
Adult $10.00, Child $10.00
Operation Hours:
Sunday-Wednesday, Friday-Saturday, 10:00 am-5:00 pm;  Thursday, 10:00 am-8:00 pm.
Closed on Thanksgiving and Christmas Day
Chicago Childrens Museum
Navy Pier
700 East Grand Avenue
Chicago, IL 60611
Phone: 312-527-1000
www.chicagochildrensmuseum.org
Comments
comments