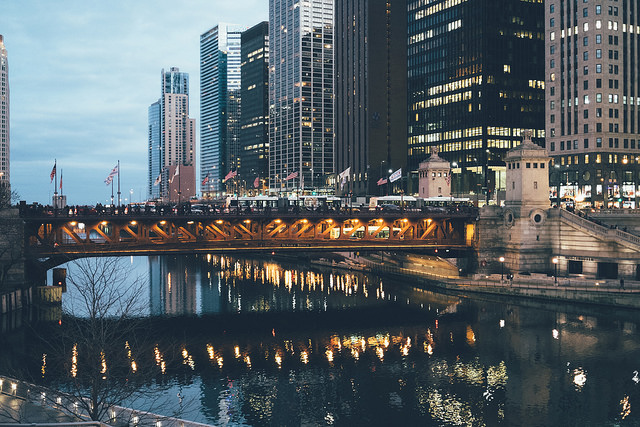 Planning a trip to Chicago? Or New to Chicago? – well, finding reliable information on getting around Chicago is very common question everyone gets at some point in Chicago. In my opinion walking is the best way to explore Chicago for tourists, compared to using any other commute options such as taxi, trains or car unless you are trying to commute between distant neighborhoods. If you are staying in Downtown Chicago hotels then I would recommend you to walk and use bikes in summer season. As we all know, winter is full of wind and cold in Chicago, it is advisable to utilize taxi or public transportation to go from one place to another during your trip.
There are few options available for getting around Chicago. I would categorize them as – Taxicab / Uber , CTA "L" Trains, buses, water taxi and bikes. Like I said, bike is always a good option for summer season, but do not even think about considering it for winter season.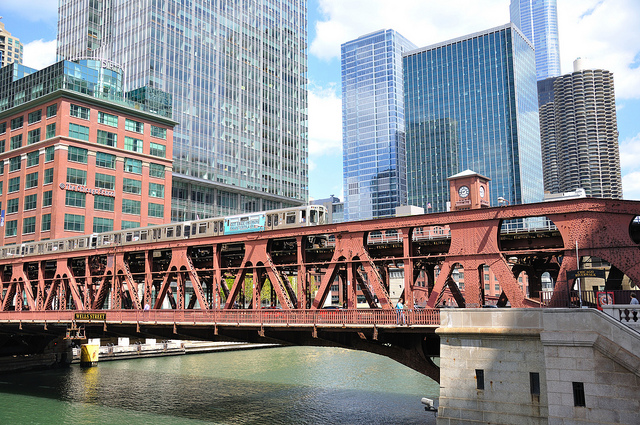 By Train and Bus
Chicago city has very good public transportation system. Chicago transportation authority, CTA, has various trains and bus routes that can be very convenient for tourists to get around in Chicago during their trip. CTA train system is known as "L" trains that runs through downtown Chicago and connected neighborhoods and suburbs. There are different kinds of "L" train routes known as Blue line, Brown line, Green line, Orange line, Pink line, Purple line and Red line.
Quick Tips: Visitors, avoid taking trains during rush hours before 9:00 am and between 4:00 pm to 6:30 pm. Also, avoid taking trains at late nights in unknown neighborhoods.
Following list of route detail for each different CTA "L" train lines for getting around Chicago
Blue Line – Trains run between Chicago-O'Hare International Airport and the Forest Park terminal, via downtown Chicago. Blue line is one of the best options to get to the downtown Chicago from O'Hare International airport if you are staying at one of the hotels in downtown Chicago. I work near Jefferson Park CTA station, that makes my life easy as I take blue line trains whenever I want to visit downtown or fly out of O'Hare airport.
Brown Line – The Brown Line CTA trains operates rapid transit service, daily, from Kimball to downtown (with certain late nite trips between Kimball and Belmont only).
I would recommend Brown line CTA trains for tourists as it runs above ground in downtown Chicago and north side neighborhoods. In my opinion, Brown Line El "L" trains are best to rid up to Kimball for a long ride or to explore Lakeview neighborhood from Belmont avenue stop.
Green Line – The Green Line route provides rapid transit train service between Harlem in Forest Park, IL and Oak Park, IL to 63rd Street on Chicago's South Side, via Loop 'L'. Overall, runs west-south direction.
Orange Line – The Orange Line provides rapid transit train service between Midway Airport and downtown (Loop), and provides service to Chicago's Southwest Side. If you are planning to book hotel room near Midway airport and planning on exploring downtown Chicago then Orange line is one of the best options to commute to downtown Chicago.
Pink Line – The Pink Line provides rapid transit train service between 54th/Cermak (serves Cicero and Berwyn) and downtown Loop. It kinds of branches of the CTA Blue Line to serve southwest side of the city.
Purple Line – The Purple Line provides rapid transit train service between Linden (in Wilmette) and Howard (in Chicago) via Evanston. Additionally, during weekday rush-periods, express service continues to downtown Loop from Merchandise Mart. Once reached Washington/Wells, express trains returns to Merchandise mart and then operate back to Linden.
Red Line – In my opinion, tourists can take advantage of Red Line "L" train at fullest as it run through lakefront and connects Chicago's top attractions. The Red Line provides 24-hour train service between Howard on the North Side and 95th/Dan Ryan on the South Side via downtown Chicago.
Yellow Line – Commonly known as "Skokie Swift", CTA yellow line is running between Dempster-Skokie and Howard (in Chicago), with connecting service to downtown Chicago via Purple Line Express or Red Line.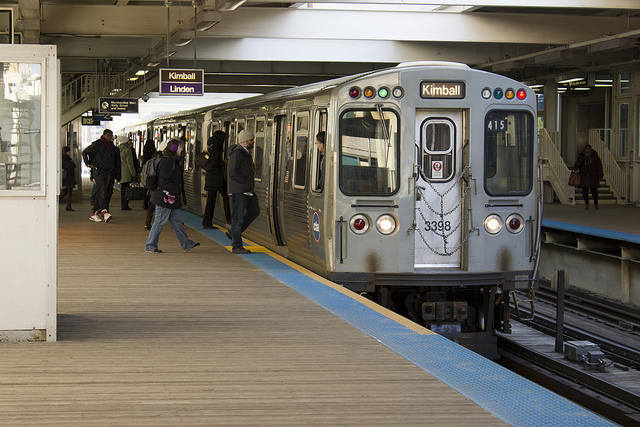 CTA Visitor Passes
Base or regular fares for "L" trains are $2.25 and $2.00 for bus rides. You can get up to 2 additional transfer rides within 2 hours for $0.25. Reduced fares are available for students, seniors, people with disabilities and Military person. Identification proof needed for discount. Make sure to purchase CTA passes or keep exact amount if you decide to take one of the buses as bus driver will not have change. You will need to have exact change in order to purchase ticket on board. I suggest you to purchase passes/tickets in advance at CTA station or keep exact change to purchase tickets on board to avoid any inconvenience. After All, we are visiting Chicago to make it memorable !
I would recommend Chicago visitors to take advantage of CTA visitor passes to get unlimited rides on CTA trains and buses. Visitor passes can be purchased for 1-Day, 3-Days and 7-Days. Following is the rate detail for different kinds of CTA visitor passes.
1-Day CTA Visitor Pass – $10
3-Day CTA Visitor Pass – $20
7-Day CTA Visitor Pass – $28
7-Day CTA/PACE Pass – $33
New Ventra tickets and Ventra cards can be purchased at all 'L' trains stations and retail locations such as CVS Pharmacy, Walgreens and many similar stores in city of Chicago. Ventra Cards can be managed online through computer or app on smartphones to reload money.
Metra Trains – Metra trains run from downtown to suburbs. These trains are mainly used by people who works in downtown and lives in surrounded suburbs. If you are looking to explore suburbs of Chicago then you can catch one of these Metra trains to get to the desired destination. Metra trains features total 12 train lines around suburban area around Chicagoland.
PACE buses – These buses run every 20 to 30 minutes in suburbs of Chicago until evening. If you are visiting Chicago then I would not recommend you to use PACE bus routes to get to the suburbs are it will take way longer to get to the destination plus, there are not many routes that goes to your desired destination.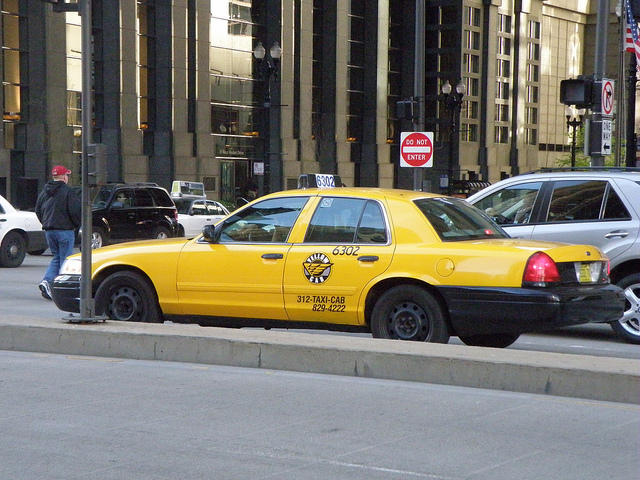 By Taxi / Uber
Taxi cab is easy way to get to the one destination to another in downtown Chicago and close by locations from downtown. I would not recommend you to take taxi cab to get to the suburban area around Chicago. Overall, Uber is cheaper compared to taxi if you are planning to get to the suburban area of Chicago.
It is very easy to catch taxi in the Loop for getting around in Chicago. If you are further away from the Loop then I would suggest you to either call a Taxi cab in advance or use UberX. Tourists staying at one the hotels in the Loop can get a taxi easily from outside of the hotel as taxis will be waiting in line in front of the hotel.
UberX rates are very low compared to regular taxi rates in Chicago. But during peak periods and holidays UberX rates go up, at that time riding a taxi can save money. You can also utilize Uber-Taxi which allows you to request an official Taxi via the Uber app and pay through Uber.
General uberX Base Rate vs Taxi Base Rate Comparison
uberX : Base fare $1.70 + $0.20/minute + $0.90/ile + $1 safe ride fee + $0.30 Chicago Tax
Taxi: Base fare $3.25 + $0.20/36 seconds + $1.80/mile + $1/additional passenger + $0.50 additional passenger after that.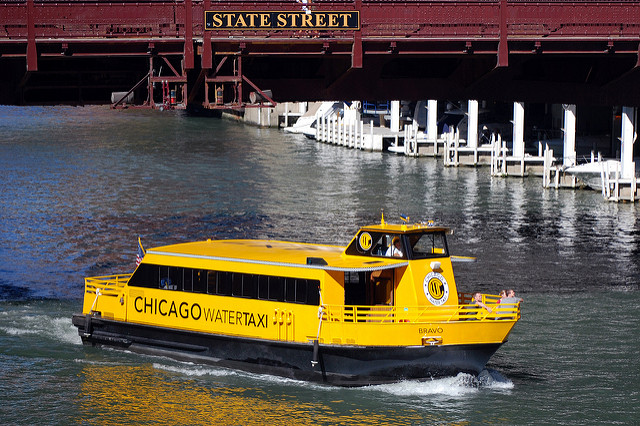 By Water Taxi
Water Tax is one of the best options for getting around Central Chicago downtown during summer months. Water Taxi runs somewhere from April through September or beyond considering weather conditions. If you are planning to visit the Museum Campus, the Loop and Chinatown then I would recommend you to use Water Taxi.
Water taxi service is operated by two companies – Shoreline Sightseeing water taxi and Chicago Water Taxi.
Shoreline Sightseeing Water Taxi
Shoreline Sightseeing water taxi offers two routes – THe Lake Route and The River Route.
The Lake Route – In my opinion, The Lake Route is excellent for views of Chicago's museum campus and little bit of downtown Chicago from the lake. The Lake Route connects Navy Pier to the museum campus . Also, it is walking distance from the Soldier Field and the Northerly Island.

The River Route – The River route is an easy access between Willis Tower and Navy Pier. I always prefer to use water taxi service from Wacker Drive – Willis Tower/Union Station to Navy Pier. It is always fun to watch skyscraper buildings from the taxi. Plus, you get to the Navy Pier quickly compared to driving in downtown Chicago.
Shoreline Sightseeing Water Taxi Fares:
Monday through Friday – $8/adult, $4/Child
Saturday, Sunday and Holidays – $10/adult , $5/Child
Chicago Water Taxi
Chicago Water Taxi company offers total 7 different stops along the Chicago River. If you have already been to Navy Pier and museum campus, and want to explore Chicago more for shopping and dining then consider Chicago water taxi to get to the major hubs of activities in downtown Chicago. Following list gives you an idea about Chicago water taxi company's stops along the Chicago river.
Ogilvie/Union station in west loop near Willis Tower
Michigan Ave – shopping and dining destination
La Salle in River North – hub for shopping, dining and nightlife
Riverwalk Clark Street – Perfect for riverwalk, dining and sightseeing
North Avenue / Sheffield – Shopping and dining location
Chinatown – Dining, shopping and sightseeing location.
Chicago Avenue – shopping and dining
Chicago Water taxi Fares:
You will end up paying from $6 to $10 for Chicago Water Taxi pass.
$10 – All Day Pass – I recommend you to purchase all day pass as it allows you to sail as many times as you want for one full day on Chicago water taxi. Money saver!
$6 – One Ride ticket – One way to Chinatown, Michigan Ave, Ogilvie, Riverwalk, Lasalle
$50 – Discount pass for 10 rides. If you travel from Michigan Avenue to Chinatown then it is considered two rides.
$60 – 31 Day pass – This pass is amazing if you are going to stay in downtown Chicago for one month or planning to commute to different hubs for longer period of time.

By Car
Chicago city has one of the best transportation service in USA. If you are planning to stay within the downtown Chicago then you really do not need a car. But if you are planning to stay outside of downtown Chicago then you may consider to rent a car. It is easy to get around the city by Car but be ready to spend more time on the road as you might get stuck in traffic, yes it is quite frustrating sometimes!
There are strict rules on parking in downtown Chicago. I recommend you to park your car at one parking garages in downtown Chicago and use taxi, water taxi, el trains or buses to get to the places you are planning to visit during that day. If you are not spending lot of time in downtown and found a parking spot on the street then make sure to read and follow parking instructions carefully as parking is prohibited on certain streets in the Loop during rush hours. For those who are spending a full day in downtown Chicago then park your car at Millennium Park garage. Parking at Millennium Park garage is cheaper compared to other parking spots, plus it is close to top attractions in downtown Chicago.
There are other options to find parking in downtown, such as finding an available parking spot at one of the available parking spot near you by using following links:
ParkWhiz
Parking Panda
SpotHere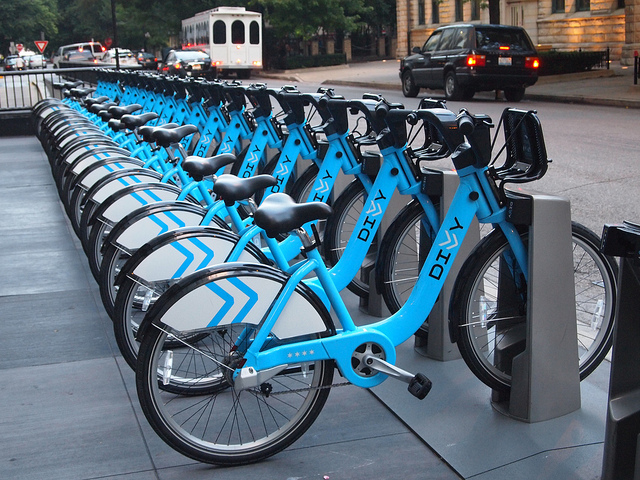 By Bike
During summer months, tourists can rent bikes to explore downtown Chicago. Chicago lakefront features 18 miles long car-free bicycle path that connects to the top attractions in Chicago. You can plan your itinerary using bike map of Chicago to get an idea about the best bicycle routes in the city.
There are bike lanes in downtown Chicago, but it is really tough to deal with cars and cab drivers especially during rush hours. So, be more careful if you are biking in downtown during rush hours.
If you decide to explore on bike then you can rent bikes from Bike Chicago company from their one of three rental locations – Millennium Park, Navy Pier and North Avenue Beach. You can rent a bike for $15/Hour or $40/Full Day.
Divvy bike share program is also a good option for bike rental. Divvy is Chicago's bike share system that has over 550 stations and approximately 5800 bikes across Chicagoland. You can either become annual member or purchase 24 hours pass from a Divvy station kiosk or smart phone app. Using your app you can find an available bike nearby, in Chicagoland. You can drop your bike at any rental station. Make sure to check green light to assure bike is locked to the station. You must wear appropriate bike gears such as helmet for safety.
There are plenty of things to do in Chicago including attractions, restaurants, shopping and nightlife. But, by utilizing Chicago's #1 transportation system anyone can get to the destination very quickly and easily!
Overall, getting around Chicago is very easy !
Note: This information on routes, fares and frequency were accurate when it was published, but can change without notice.
Comments
comments