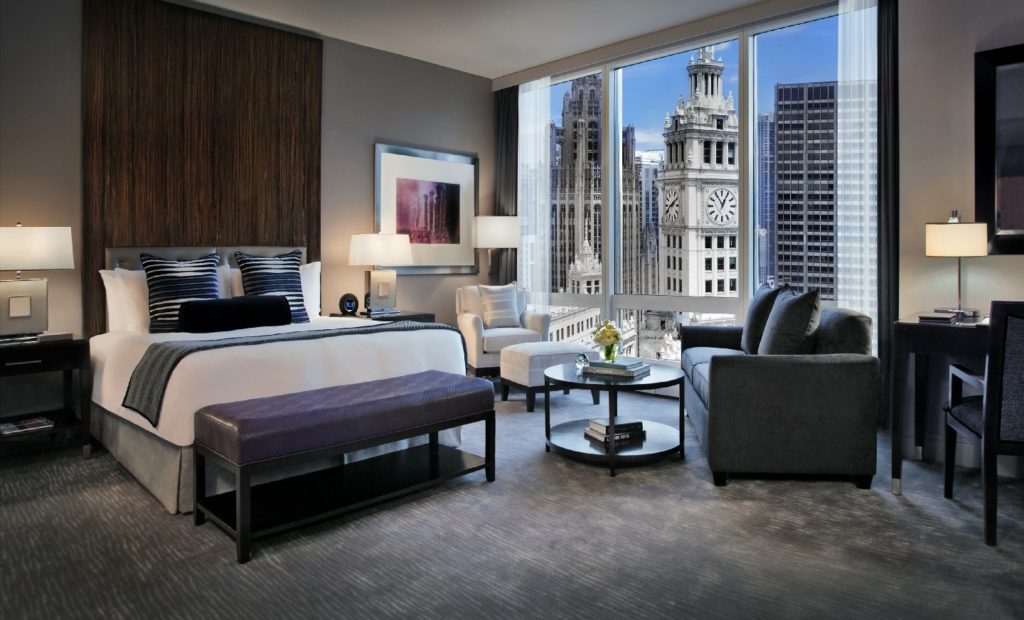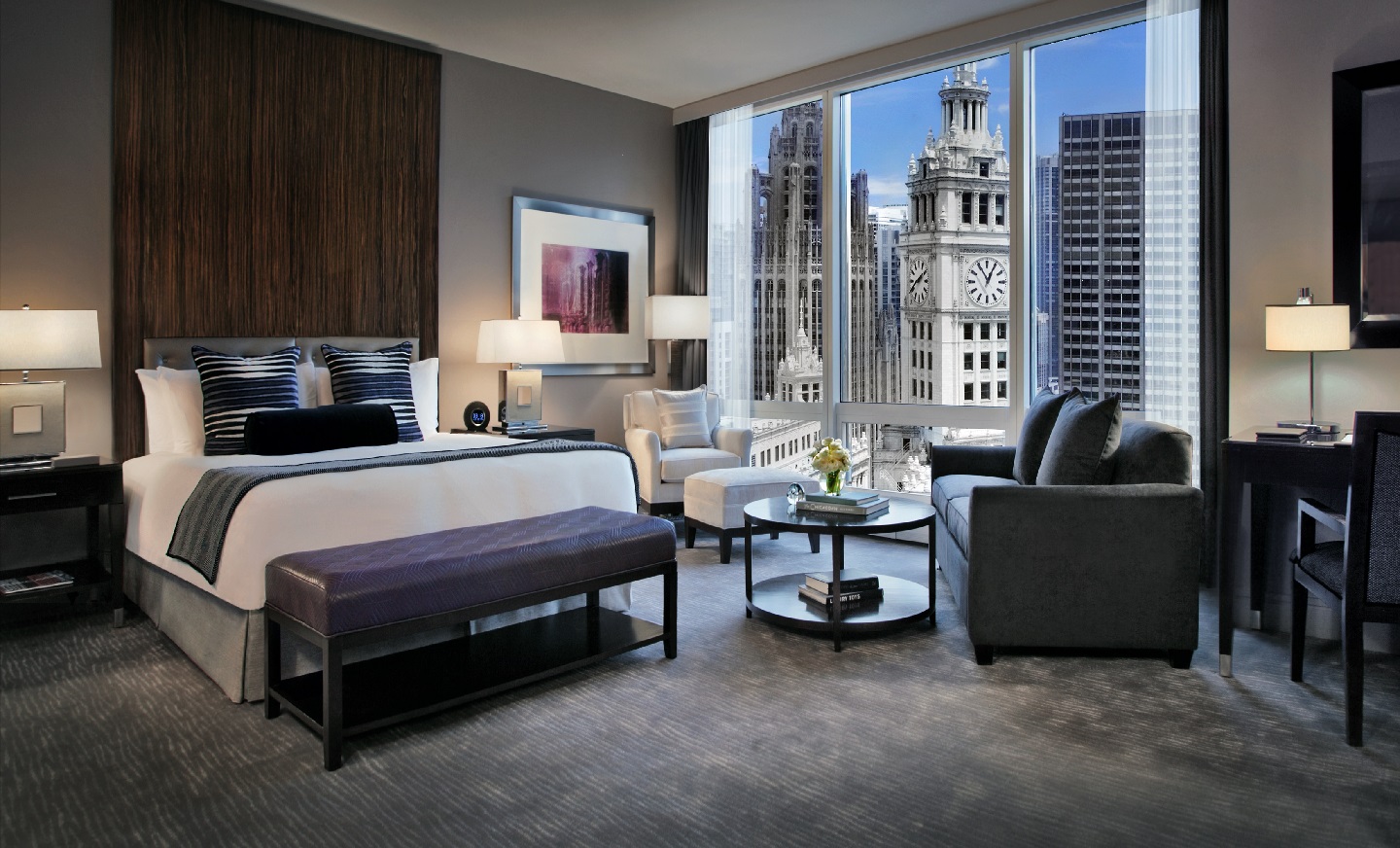 Where should you stay in Chicago? It's challenging and more confusing while planning a Chicago trip or local getaway to unwind and relax in hotel away from daily routine life. Chicago is one of the largest metro city in USA. Chicago city covers large radius of area, that offers plenty of hotel rooms to stay, and more options creates more confusions. If you are not familiar with Chicago then it might get pretty confusing when it comes to booking a hotel room to stay during your trip.
In this article I will try to cover Chicagoland focusing on key factors that might help you decide the perfect hotel for your stay in Chicago. Chicago city has plenty of things to do and see, based on your preferences and budget, you can choose hotel to stay in the area that fits well for the purpose of your Chicago trip. In my opinion, for tourists, hotels near Downtown Chicago are perfect. Downtown Chicago is divided into four areas: The Loop, Near West Side, Near North Side and Near South Side.
Downtown Chicago – The Loop
Loop, sounds funny when you hear it! But, Chicago downtown is known as loop. Name comes from the CTA train line loop that circles the downtown Chicago. Downtown Chicago is very well known for extraordinary modern architecture – credit goes to high rise buildings and skyscrapers corporate towers. Most of all top attractions, such as Willis Tower, Millennium Park, Buckingham Fountain, the Field Museum of Natural History, Shedd Aquarium, Magnificent Mile and others are located in and around downtown. Not only that, year round there are always many activities and tours are available for entertainment in downtown Chicago considering different seasons and weather conditions.
I assure you that, there is never a dull moment in downtown Chicago. It's always energetic, full of people rushing around for work, for sightseeing or to chill with friends and family. In my opinion, plan on staying at one of the downtown Chicago hotels, if you are not traveling to Chicago on tight budget. Hotels in Downtown Chicago might be pricey time to time but worth the dollar amount.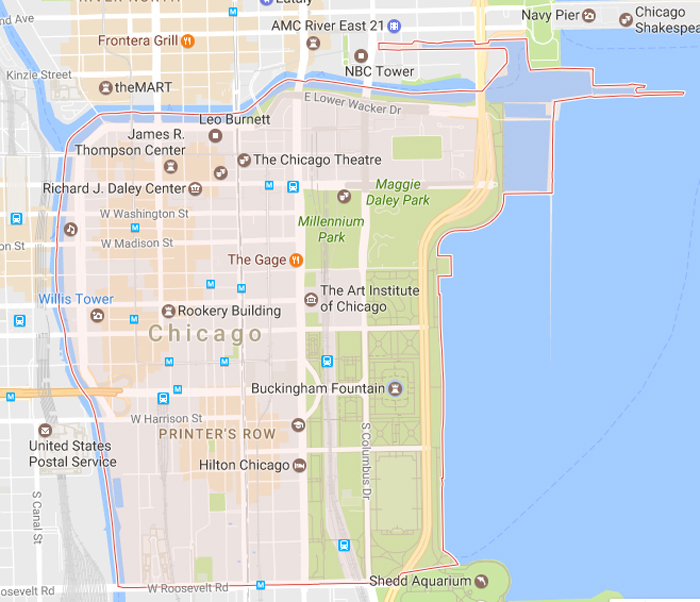 Hotels in the Loop
Downtown Chicago hotels are kind of expensive, but in my opinion it is worth staying there for visitors. Do not plan on rent a car if you book a hotel room in the loop, because all hotels charges for parking. There are plenty of transportation options available, so you really do not need a car. Downtown Chicago is connected to O'Hare International airport and Midway Airport by train. These trains are the fastest and easiest way to get to the downtown Chicago without a car.
Here is the list of my recommended Chicago loop accommodations. I also recommend you to read reviews and get list of Chicago loop hotels on tripadvisor here!
Swissotel Chicago
Hotel Blake Hotel
Central Loop Hotel
The Silversmith Hotel
The Palmer House Hilton
Virgin Hotels Chicago
Renaissance Blackstone Chicago Hotel
Kimpton Hotel Allegro Chicago
Hampton Inn North Loop Hotel
Hyatt Centric The Loop Chicago
The Congress Plaza Hotel
Hyatt Place Chicago Downtown- The Loop
Downtown Chicago – Near West Side
The West Side features historical and cultural diversity. Communities in the west side has played major role in development of Chicago. the West Side has historic role as a gateway of immigrants. The West Side of Chicago offers many ethnic restaurants and shops. Travelers who are travelling on tight budget may consider to book a hotel room in the West Side. I strongly recommend to read hotel reviews on Tripadvisor before making a room reservation.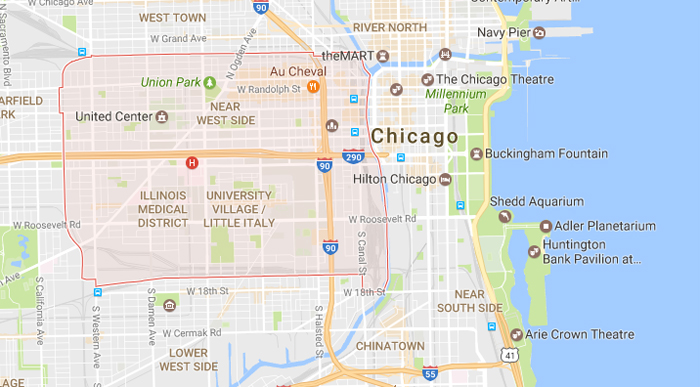 Hotels in West Side
Hotels in West side has lower room rates compared to downtown Chicago hotels. It is not too far from downtown Chicago. Following are my few recommendation for hotels in the West Side. Always make sure to read reviews on Tripadvisor before booking a hotel room.
Marriott Chicago at Medical District/UIC
Hotel Chicago – Illinois Medical District
Crowne Plaza Chicago West Loop
Downtown Chicago – Near North Side
Near North Side is the northernmost of the four areas of Downtown Chicago. Near North Side area is located north of Chicago River up to North Avenue. Gold Coast, Old Town, Goose Island, River North and Streeterville – Magnificent Mile are main neighborhoods of Near North Side. It is close to top attraction including Navy Pier, Chicago Water Tower, John Hancock Center, Water Tower Place, Chicago Children's Museum, Magnificent Mile and Chicago Shakespeare Theater.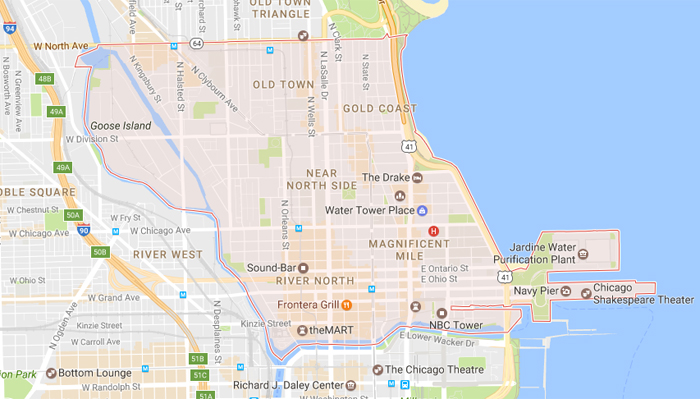 Hotels Near North Side Chicago
Hotel recommendation Near North Side Downtown Chicago, Read hotel reviews on Tripadvisor before booking a hotel room for safe side.
Kinzie Hotel
Loews Chicago Hotel
Sheraton Grand Chicago
Four Seasons Hotel
Park Hyatt Chicago
Dana Hotel & Spa
Omni Chicago Hotel
Hyatt Place Chicago / River North
Residence Inn Chicago Downtown/River North
Kimpton Hotel Palomar Chicago
Downtown Chicago – Near South Side
Near South Side features famous attractions such as The Field Museum of Natural History, Soldier Field, Shedd Aquarium, Adler Planetarium and Northerly Island. McCormick Place is also located in Near South Side area that drives millions of exhibitors to South Side in Downtown Chicago. Whether you are planning to visit Museum campus, attend one of the trade shows at McCormick Place or watching NFL game at Soldier Field, any hotels near south side in Downtown Chicago will be a good choice.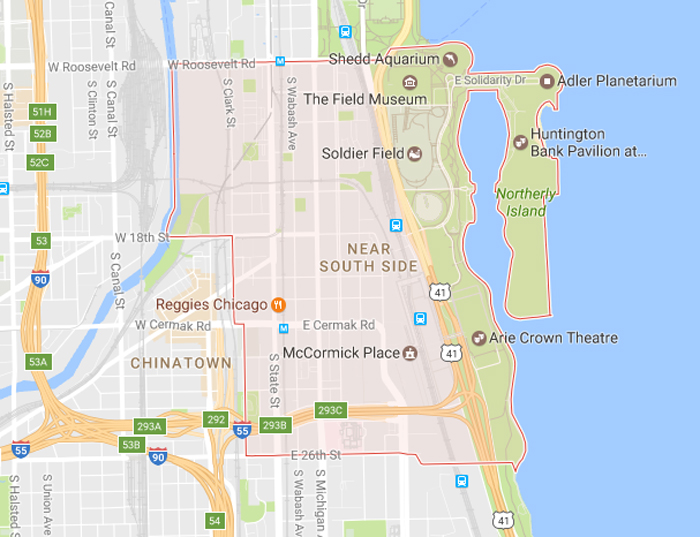 Hotels Near South Side Downtown Chicago
My hotel accommodation Near South Side in Downtown Chicago
Hyatt Regency McCormick Place
Uptown
Uptown is located just north of downtown Chicago. Uptown is surround by Edgewater, Lincoln Square and Lake View. On east side, Uptown Chicago features nice sandy Montrose Beach on Lake Shore drive. Uptown is known as entertainment district featuring various music venues, theaters, nightclubs, jazz clubs, restaurants and shops. Place has ties with famous gangsters such as Al Capone, Terrible Touhy and others. Many tours has stop in Uptown considering the ties with famous gangsters. Overall, if you are looking to enjoy live entertainment during your Chicago trip then book a hotel room in Uptown, the entertainment district.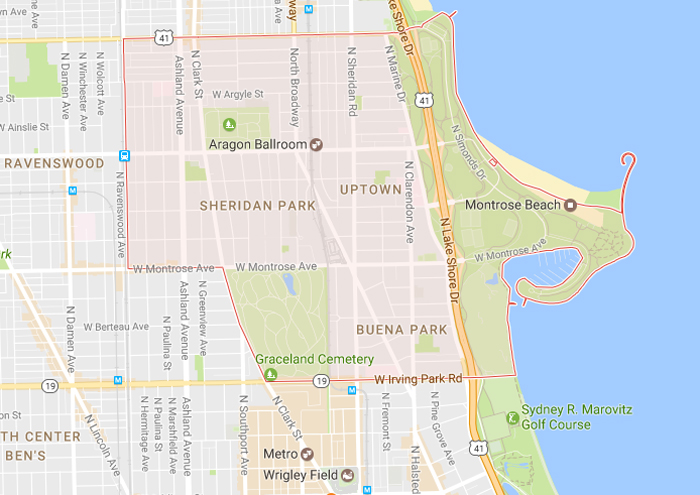 Hotel recommendation in Uptown
The Guesthouse Hotel
Hampton Majestic Chicago Theater District
Majestic Hotel
The Willows Hotel
BEST WESTERN Plus Hawthorne Terrace Hotel
City Suites Hotel
Near O'Hare Airport
O'Hare International airport is one of the busiest airport in United States. There are plenty of options available for stay near O'Hare airport. In my opinion, O'Hare is also one of the best options to stay in Chicago as it is not too far from Downtown Chicago. You can commute to Downtown Chicago using 24 hours CTA Blue line trains. As hotels near O'Hare host conferences and meetings, location is ideal for anyone who is traveling for business trip. Also, you can take advantage of concerts at Allstate Arena and/or try your luck by gambling at nearby River Casino.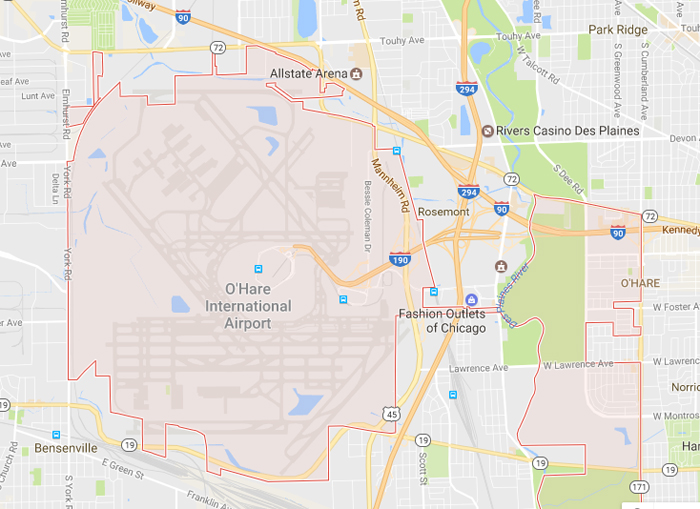 Hotels near O'Hare International Airport
The Westin O'Hare
Aloft Chicago O'Hare
Hilton Rosemont / Chicago O'Hare
Crowne Plaza Chicago O'Hare
Loews Chicago O'Hare Hotel
Hyatt Regency O'Hare
Sheraton Chicago O'Hare Hotel
Midway Airport (MDW)
Midway airport is located south side of the city. Midway airport is also linked to Downtown Chicago through trains that makes easy commute to top attractions, tours and activities. If you are flying out of Chicago very early in the morning from Midway then it is appropriate to book hotel near Midway airport compared to staying in Downtown Chicago.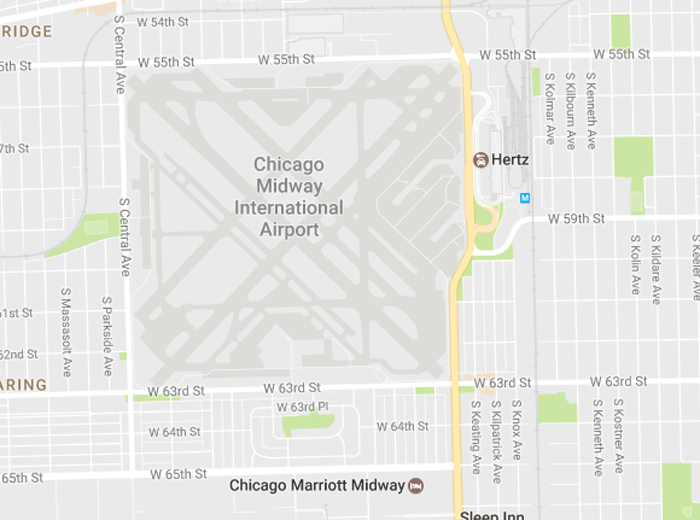 Hotels near Chicago Midway airport
Hyatt Place Chicago Midway Airport
Chicago Marriott Midway
Holiday Inn Express Chicago-Midway Airport
Holiday Inn Chicago – Midway Airport
Fairfield Inn & Suites Chicago Midway Airport
If you are looking for hotels in Chicago near different landmarks or neighborhoods then consider to check rooms on hotel brands such as Holiday Inn Express, Marriott Hotels, Hampton Hotels, Hyatt Hotels and Best Western Hotels. Budget friendly travelers can find hotel rooms in Chicago with hotel brands such as Motel 6, Super 8 and Choice Hotels.
Overall, whether you are Chicago locals looking for a weekend getaway in Downtown Chicago or visitors planning a trip to Chicago, there are plenty of hotel rooms available in Chicago for everyone!
Comments
comments