Chicago 3-Day Itinerary – Chicago in three Days
I believe by the time you are starting your third day in Chicago, you must have completed your Chicago one day itinerary and Chicago two days itinerary. Chicago 3-Day Itinerary is planned to follow after the Chicago 1-Day Itinerary and Chicago 2-Day Itinerary. During third day of your Chicago Vacation, now it's time to go further north away from the Chicago downtown. You can start with CTA bus 151 or 156 from downtown or you can start from O'Hare Airport through Blue Line. Check Transit Chicago for more route detail.
Lincoln Park Zoo
Lincoln Park Zoo Chicago is one of the oldest zoos in United States of America. Currently zoo is taking care of 1200 animals related to around 230 species. Lincoln Park Zoo is the best place to have some family time with kids because zoo offers Children's zoo, paddle boats and carousel. Best thing about the place is that there is no entrance fee or tickets. Yup, Lincoln Park Zoo has FREE admission.
QUICK TIPS:
Go Chicago Card – Smart Way to See Chicago



Save up to 55% on admission to all the top Chicago attractions and tours with a Go Chicago Card discount attractions pass. Save money and skip lines !
Check out my list of Go Chicago Card Promotional offers !!!
Address: 2001 N Clark St, Chicago, IL 60614 Phone: (312) 742-2000
Also, The Farm-in-the-Zoo is the place where visitors can interact directly with animals growing on the farm. Place where cow can be fed, Chicken, rabbits, goats and Ponies can be seen up close and met.  The Main Barn features exhibits for guests of all ages where you can learn about bees, "hatching out" of an oversized egg, experience the rush of a tornado, lightning and rumble of the thunder. Overall you can enjoy something different from the usual at the Lincoln Park Zoo.
Break Time
Lincoln Park zoo offers variety of food to satisfy all appetite. Park Place Cafe is open through out the year where you can enjoy pasta, tacos, burgers and sandwiches at Park Place Cafe. If you are foody and want to try something else then Zoo food area has bunch of restaurants on the premises where you can pick the food that interest you most.
North Avenue Beach
North Avenue Beach, Chicago is the right place for people-watching. Yup, during summer season North Avenue Beach is full of people, you can say between Memorial Day and Labor Day. During peak season, beach is always crowded with singles and families with kids. Nicely well maintained place where you can enjoy running, biking, volleyball and many more activities. Beach House is located right on the beach featuring restaurants, casual food place, restrooms and shops for visitors' convenience.
Address: 1603 N. Lake Shore Drive, Chicago, IL 60614 Phone: 312-742-PLAY
Baha'i House of Worship (Optional)
After the long day at Lincoln Park Zoo and North Avenue Beach activities, I am sure you will be tired. But, If you still have energy and you are ready to pay some bucks for Taxi then you might want to consider Baha'i Temple. It is around 12 miles away from North Avenue Beach. Currently there are only seven Baha'i temples in the world and Chicago has one of them. Baha'i temple is famous for unique structure symbolizing unity and prayer to God.
Address: The Baha'i House of Worship – 100 Linden Ave., Wilmette, IL 60091 Phone: 847-853-2300
Chicago 3-Day Itinerary Map for Understanding: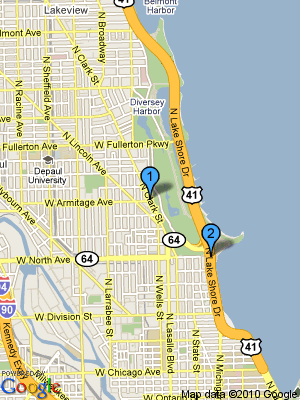 P.S.  – Due to space limitation on Map, We haven't marked Baha'i Temple.

Related Chicago Itineraries:
Comments
comments