Chicago 4-Day Itinerary – Chicago in Four Days

By the time you are planning to complete Chicago 4-Day Itinerary, I assume that you have completed your Chicago 1-Day itinerary, Chicago 2-Day itinerary and Chicago 3-Day itinerary. There is always a chance to shuffle itineraries based on your preference.
Chicago 4-Day Itinerary is planned around Water Park. If you are visiting Chicago during winter, which is rare, then you might want to consider Coco Key Water Resort Clock Tower Resort & Conference Center indoor water park located in Rockford, IL otherwise Chicago Summer Vacationers must consider Six Flags.
Winter travelers can check out list of Chicago Indoor Water Parks list for reference.
1. Six Flags Great America & Hurricane Harbor, Chicago
Fourth day in Chicago can be more joyful and thrilling at Six Flags. The Six Flags Great America is very well known park in United States for record-breaking thriller rides as well as mild rides. Long story short, Six Flags Great America Chicago got all kinds of rides for everyone featuring 7 miles of intense coaster tracks, classic carousel and famous wet rides at Hurricane Harbor. Six Flag Great America and Hurricane Harbor offers rides of different speeds which includes Mild, Moderate and Max speed rides.
QUICK TIPS:
Go Chicago Card – Smart Way to See Chicago



Save up to 55% on admission to all the top Chicago attractions and tours with a Go Chicago Card discount attractions pass. Save money and skip lines !
Check out my list of Go Chicago Card Promotional offers !!!
Mild – When you want to go for a ride, not break the sound barrier.
Moderate – Fun and fast, but just enough to get the blood pumping.
Max – Better warm up your vocal chords because you're gonna scream.
Park offers different kind of rides which includes – Thriller rides, Family Fun rides, Kids only rides and Hurricane Harbor Water Rides.
The Six Flags Great America is always famous for Thriller rides which include fastest, tallest and wildest rides. You will be challenged by those record-breaking rides. Also, Six Flags Great America is a place for family fun and union. For family fun, Park offers Kids Only Rides and Family Group Rides.
Kids Rides are designed by considering their height and age. Kids will have tons of fun at Six Flags through their own rides or accompanied rides with parents. You would be amazed with their giggle and laughter when rides spin and fly them safely. Six Flags Great America offers three kids zone for young which also includes Wiggles World and Skull Island. Check out printable Six Flag Great America Kids Map.
Also in addition to Kids Rides, park offers Family Fun rides where entire family can take part together. Trust me they have got plenty of rides to enjoy together.
Hurricane Harbor has become the center of attraction at Six Flags. These wet and wild water rides are perfect to enjoy the splash of water. You would experience the largest wave pool in United States of America. You and your family will enjoy multi-passenger rafting adventures including other many water slides and rides. So get ready to have full day of thrilling family fun at Six Flags Great America and Hurricane Harbor. Six Flags Hurricane Harbor is open early May to early September.
Break Time & Food at Six Flags:
Park offers many food places conveniently located throughout the park. You can take a break from the action and refresh with fresh food and drinks at food places.
Apart from rides, you can enjoy shopping and games at Six Flags Great America & Hurricane Harbor Chicago.
Tips: Park entrances get very busy during peak summer season. Try to arrive early than the usual get opening times (10 am -11 am).
Address: Six Flags Great America – 1 Great America Parkway, Gurnee, IL 60031 – Located on I-94 at Route 132 (Grand Ave.)
2. Rain Forest Cafe Restaurant
You can end your long day by having dinner at Rain Forest Cafe Restaurant. Rainforest Cafe is located in Gurnee Mall right across from Six Flags Great America & Hurricane Harbor. You need to cross the I-294 through bridge to reach the restaurant. It is a tropical rain forest theme restaurant where you can enjoy good food and educate your kids about rain forest. Restaurant theme features thunder, lightning and serene sound of rain along with rain forest animal sounds in background. Good place to eat, especially with kids!
Address: Rainforest Cafe – 6170 Grand Avenue, Gurnee, IL 60031-4554 Phone: (847) 855-7800
Chicago 4-Day Itinerary Map for Understanding: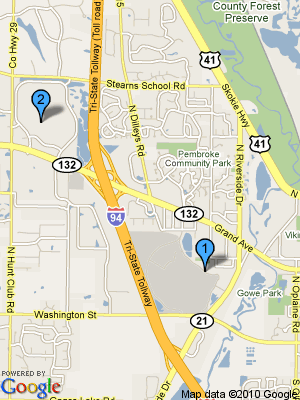 Related Chicago Itineraries:
Comments
comments