Four Seasons Chicago Hotel Review
Address: 120 E Delaware Pl, Chicago, Illinois , 60611
Write a Review Check Room Rates

Features:
Four Seasons Chicago Hotel is truly the iconic beacon of style, elegance and sophistication evident through its wide range of services, amenities and luxurious decor. Step into the luxurious haven of Four Seasons Chicago hotel to experience the lavishness and opulence of grandeur through its exquisitely done interiors. This luxurious Four Seasons Chicago hotel is located short distance from North Michigan Avenue's financial and social precinct and the famed Magnificent Mile therefore you are never far away from the thriving cultural scene of Chicago.
>> More on Chicago Hotel Room Discounts for Your Savings:
Why I Recommend You to Stay:
Epitomizing luxury and grace, this Four Seasons Chicago hotel truly knows how to pamper and make their guests feel special. Exuding an aura of contemporary style and elegance, the hotel offers magnificent views of the city's dramatic skyline and most of the rooms are either facing the gorgeous lake or the stunning views of the city. Hotel truly offers a seamless blend of sophisticated nad understated luxury and a serene and a calm environment.
In the heart of Chicago:
Situated right in the heart of Chicago, Four Seasons Hotel is just a few minutes walk from the celebrated Magnificent Mile, Millenium Park and the famous Michigan Avenue. Step in to experience the luxurious charms and step out to discover the glorious facets of Chicago.
Elegant rooms:
The rooms are tastefully decorated offering a host of comforts and conveniences to ensure guests to experience a memorable stay. The rooms do reflect the grace and elegance of French décor and the rooms are categorized as lake view rooms or city view rooms. Well appointed and elegantly decorated, the rooms offer a variety of services such as terry bathrobes, hair dryer, iHome docking station, DVD player, complimentary Internet access and multi-line telephone.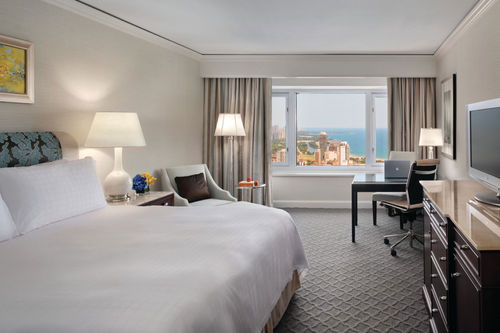 Luxurious Spa and the Indoor Pool:
The luxurious spa beckons guests to surrender to the pleasurable and rejuvenating experience of enjoying a relaxing spa treatment. Guests can enjoy from a selection of indulgent spa within soundproofed and private spa treatment rooms. Besides, the spa, the Four Seasons Chicago hotel also features a 50foot Roman style indoor swimming pool that offers splendid views of the city skyline.
Inside Knowledge:
Guests allergic to down feathers can request for non-feather bedding and the housekeeping at the Four Seasons Chicago hotel is gracious to extend any kind of assistance required to make your stay a comfortable one.
Do's and Don'ts:
Do Bring Your Cigarettes: The hotel offers rooms for smokers on request and it also provides wheelchair-accessible rooms.
Do Bring Kids: The hotel also offers special childproofed rooms for families, which are available on request. The hotel does not charge any additional fee for children of age 18 years and younger.
Do Not Rent a Car: If not necessary then avoid to rent a car in Chicago. The hotel offers valet parking service at a fee of approximately $54 per night
Comments
comments