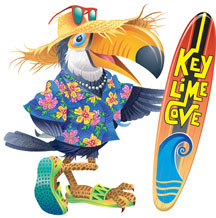 KeyLime Cove Indoor Waterpark resort is a tropical themed waterpark in Gurnee, IL. Great place to experience the tropical getaway up in Chicagoland. KeyLime Cove Indoor Waterpark is minutes away from Chicago city and Milwaukee. Your family will love the tropical getaway specially in the winter without leaving the Illinois. This waterpark offers variety of slides and thrilling experience. Hurrican Vortex is swirling whirlpool slide which requires 42″ minimum height. Grab the tube tight and rest will be done by whirlpool slide.
Not only that, save your screaming for two 500 ft long water slides and tube slides. These two giant body slides are each more than 500 feet long! Tube slide has it's own fun. Trust me you will be screaming Wahooo in that ride. Unlimited fun for you!
In addition to all, most important thing about the KeyLime Cove Waterpark resort is their security and safety facilities. This indoor waterpark is staffed with Ellis and Associates certified lifeguards, which mean they are trained in lifesaving skills, personal safety, CPR, Aquatic First Aid and emergency procedures.
KeyLime Cove Waterpark Resort offers different kind of eating places. Yes, you will have mouth watering experience at one of restaurants at resort. Restaurant list includes D.W. Anderson's, the Crazy Toucan, Island Temptations, Anna Chovy's Pizzeria, Hot Diggety Dawgs and Sharky's Big Bites.
Spa lover can take advantage of Paradise Mist Spa facilities at the KeyLime Cove Indoor Waterpark Resort. If you are confused about choosing or planning any special event, birthdays', wedding or any special occasion party then you might want to consider KeyLime Cove Waterpark resort. This indoor waterpark offers and organize events on the premises.
Apart from fun and food one important thing you will need is the place to rest. You can rest up on one of the 414 guest suites. Believe it or not but you will need a place to unwind after full day water activities.
Operation Hours at KeyLime Cove Indoor Waterpark Resort:
Monday- Friday 10am- 9pm
Saturday & Sunday 9am- 9pm
Directions to KeyLime Cove Indoor Waterpark Resort:
From Chicago Downtown: Take I-94W or I-294 North. Exit Grand Ave. (Rt. 132E) in Gurnee.
From Milwaukee: I-94E towards Chicago. Exit Grand Ave. (Rt. 132E) in Gurnee.
From Western Illinois Region: I-88E to I-294N. I-294 North becomes I-94W. Exit Grand Ave. (Rt. 132E)
KeyLime Cove Water Park Resort & Hotel
1700 Nations Drive
Gurnee, IL 60031
(877) 360-0403
www.KeyLimeCove.com
Comments
comments