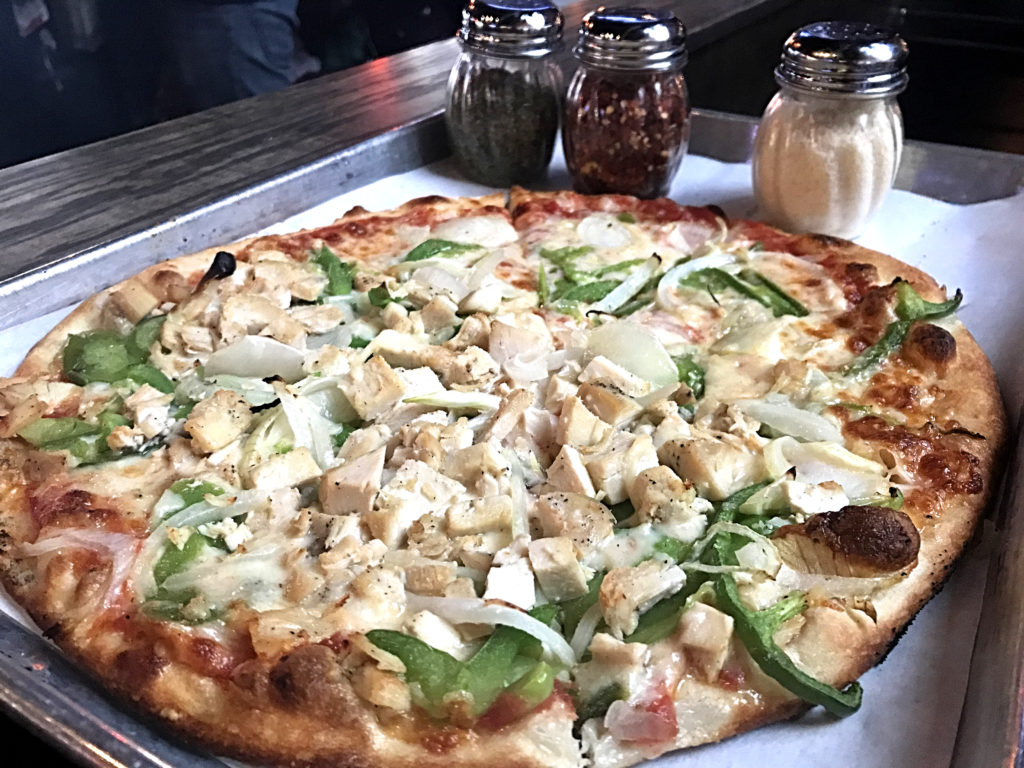 Piece Brewery and Pizzeria is located on bustling North Ave in Wicker Park. This place is one of the popular breweries and pizzerias in Wicker Park, offering good New Haven Style pizza and variety of world beer cup championship winner, hand crafted beers on tap. I visited Piece Pizzeria and Brewery for lunch with friend, surprisingly excellent ambiance with modern wood cabin style decor.
In my opinion, Piece is perfect for adults to hang out with friends. Regardless of plenty of seating area, Piece may get busy during peak hours and weekends. So, if you are visiting Piece during peak hours then be ready to wait. Overall, it is kind of hang out place, something similar to the Parlor Pizza in Wicker Place, where you want to spend time with friends without worrying about when you will get your table or food for the evening.
Have you been to Piece Brewery and Pizzeria? Click here to share Piece Brewery and Pizzeria review here!
Tips:
Driving to Piece Brewery and Pizzeria? During peak hours, such as dinner and weekends, you may not find parking spot on the street. Reserve parking spot at nearby garages. Check ParkWhiz or SpotHero to reserve a parking spot near Piece Brewery and Pizzeria. You can also consider to take CTA blue line to Damen station and walk.
We visited Piece Brewery and Pizzeria by thinking, just another pizzeria with beers on tap, but I am glad I went there for lunch. Their menu features variety of beers featuring the World beer Cup championship winner, hand crafted beers, made fresh with finest ingredients. According to Piece pizzeria and Brewery, since 2001, their hand crafted beers have won over 28 medals including The World Beer Cup championship in 2006.
Roadhouse and The Weight Hand Crafted Beers at Piece Brewery and Pizzeria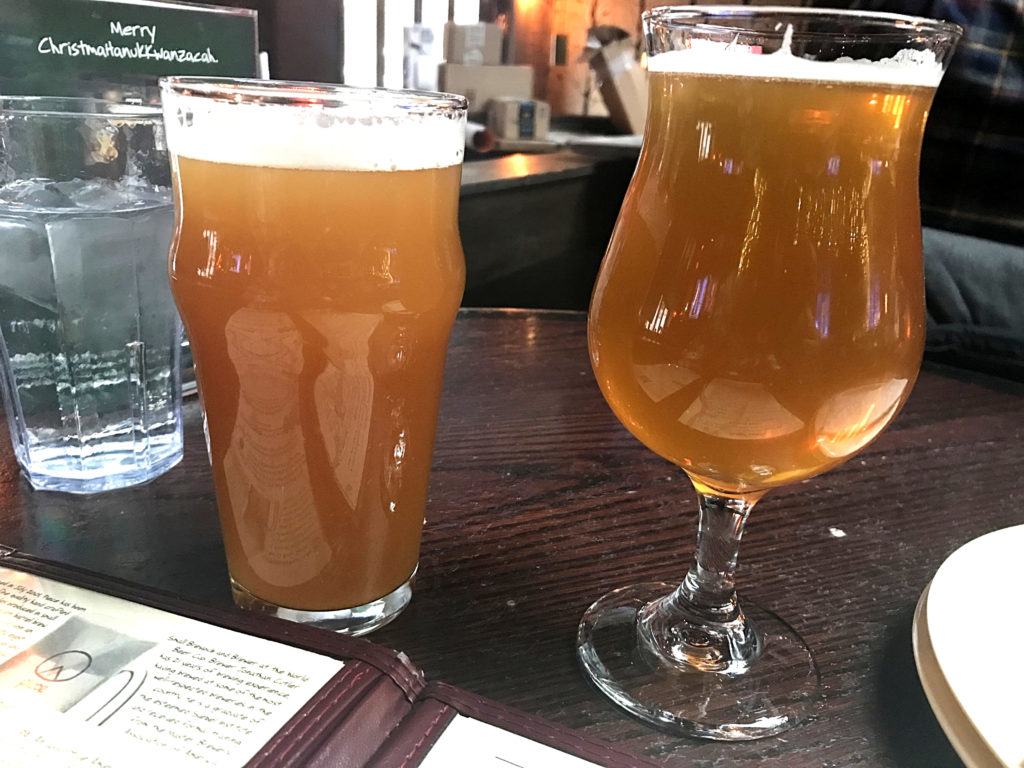 Our server, Haniya, was very friendly. Even though it was busy time, on request she explained the beer menu in detail. I must say, it was a busy day at Piece but Haniya was making sure that each guests get good service at Piece. We ordered Roadhouse and The Weight for startup. The Weight was one of the winning beers at the World Beer Cup championship in 2006. And yes, don't get fooled with the name – "The Weight", in reality it's light beer! I would say classic American pale ale with 6% abv. If you like citrusy IPA then try their Roadhouse. They call Roadhouse as "Patrick Swayze-Style IPA" with 8% abv. Roadhouse comes in 13oz tulip.
Pizza menu at Piece Pizzeria and Brewery is pretty simple. You can create your own custom pie with choice of your ingredients. We ordered small pizza with choice of ingredients! At Piece, first you choose the size of the pie and then you have three pizza style options to choose, RED – traditional tomato sauce with parmesan and mozzarella cheese, WHITE – brushed with olive oil, topped with garlic, parmesan and mozzarella cheese, NEW HAVEN STYLE – made with traditional red sauce topped with garlic, parmesan and olive oil without mozzarella.
Traditional Pizza at Piece Pizzeria and Brewery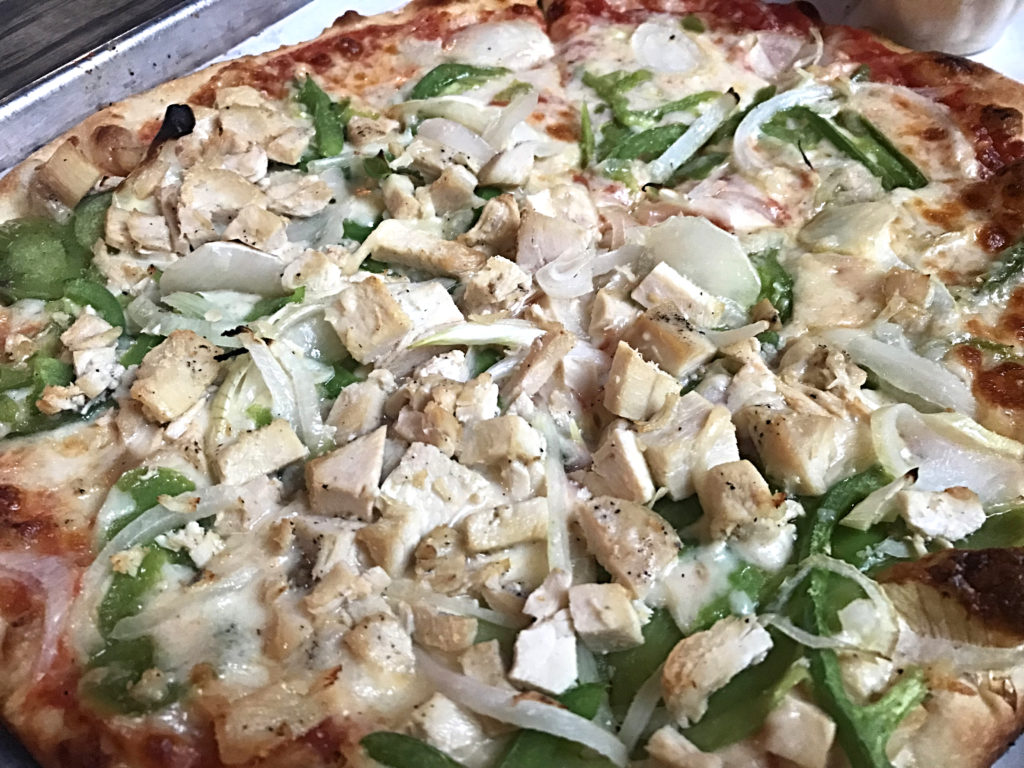 I ordered traditional RED small pizza, topped with green peppers, online and requested half pie topped with chicken. At Piece Pizzeria, you get two kinds of toppings, regular toppings for $2 per topping, and premium toppings for $3 per topping. We had to wait sometime before we got our pizza, but it was holiday time and place was busy during lunch. It was not bad at all to wait for the food as I didn't feel a dull moment. Overall, it was fun to enjoy unique hand crafted beers while waiting for pizza.
Our pizza was flavorful with crispy and doughy crust. All toppings were thoroughly baked that gives you straight out-of-the oven flavors and taste! There is nothing bad about the place, only one downside I felt about Piece Pizzeria that, pizza is little overpriced for the common regular toppings, but I guess you pay for the ambiance and location. It was worth paying high price for the place!
Hand Crafted Beers Samples at Piece Brewery and Pizzeria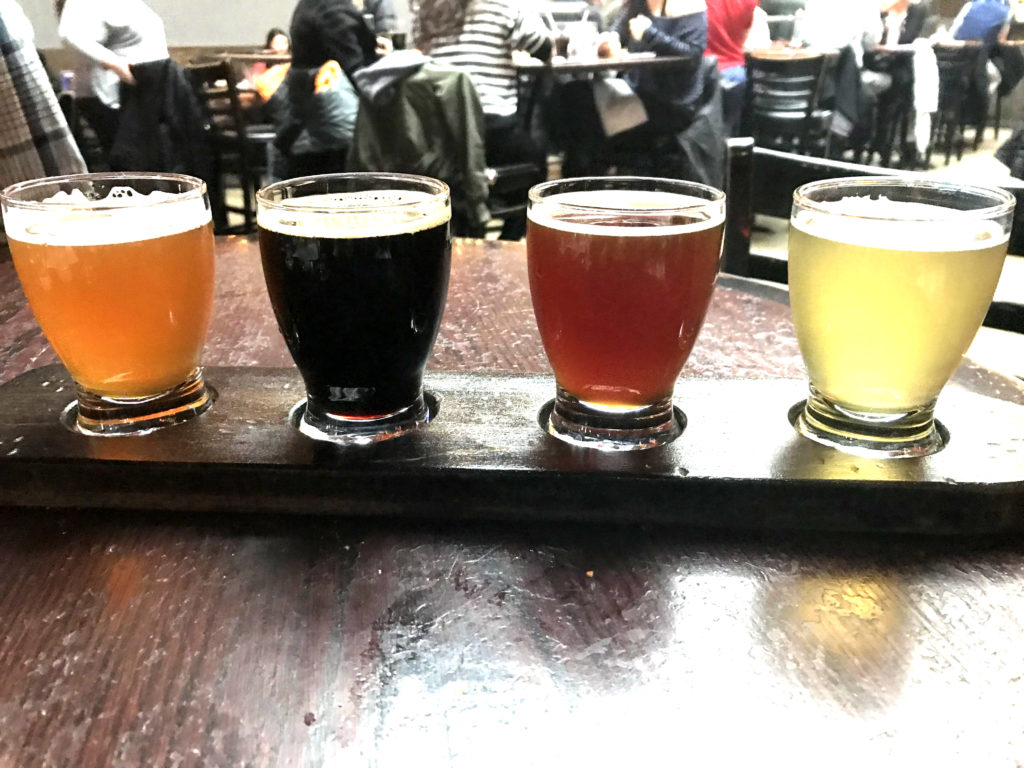 We also ordered samples & beer flights from the menu. You get 5oz samplers of four different kinds of hand crafted beers from the menu. As we already had Roadhouse and The Weight, we picked, from right to left in above photograph, Golden Arm, Dark & Curvy Dunkelweizen, Heavy Bag and Goodbye Horses. Each beer has unique taste that you cannot find Overall, I would say one of the best breweries in Chicago to enjoy unique hand crafted beers that has won the World Beer Championship.
Overall, Piece Pizzeria and Brewery is the place to enjoy New Haven Style pizza with hand crafted beers on tap. If you visit Piece Pizzeria during weekends then you may have to wait until you get the table. Piece Pizzeria and Brewery is located at 1927 W North Ave, Chicago, IL 60622
Like This Post? Share It on Social Media!
Comments
comments