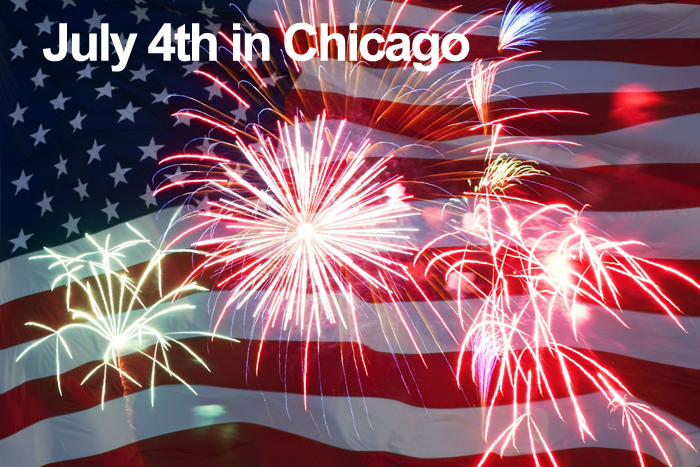 4th of July is on Tuesday this year, that gives you the perfect opportunity to plan a long weekend in Chicago. Take a day off on Monday and explore Chicago like you do on every long weekends. There are plenty of things to do in Chicago on 4th July weekend. Do not miss an opportunity to see Independence Day fireworks displays, enjoy festivals and save on admission to top attractions in Chicago. My following list of activities will give you some information on planning a July 4th weekend in Chicago.
Navy Pier 4th of July 2017 Fireworks
Navy Pier is one of the popular attractions in Chicago. Do not forget to enjoy an excellent fireworks display at Navy Pier over the lake at 9:30 pm on Tuesday night. Navy Pier fireworks on Independence Day is not to miss, but if you missed an opportunity on 4th of July then you can consider to watch fireworks at Navy Pier one of Wednesdays and Saturdays during summer season. Usually, Navy Pier gets pretty crowded on 4th July weekend and they may close main gates after capacity has reached its maximum limit. So, plan on getting there earlier to make sure you can get entry to your already booked shows, cruises or lake tours.
Grant Park Music Festival 2017 – Independence Day Salute
Music lovers can plan on attending patriotic music evening at 6:30 pm at the Millennium Park at the Jay Pritzker Pavilion with an evening of patriotic favorites, including Stars and Stripes Forever, the 1812 Overture and more. An encore performance will be held on Wednesday, July 5 at 6:30 PM at the South Shore Cultural Center, 7059 S. South Shore Drive. Visit Grant Park event page for detail!
Plan on getting on board on Odyssey dinner cruise. Consider to upgrade your dinner cruise for fireworks to enjoy the 4th of July fireworks at Navy Pier while sailing on Lake Michigan. If you do not get upgrade for firework dinner cruise then you can still enjoy the good quality dinner and drinks with live entertainment on the deck. If you are visiting during day then you can consider Odyssey lunch cruise on Lake Michigan!
Book Chicago Odyssey Dinner Cruise at Viator
Six Flags fireworks and fun!
Six Flags Great America is celebrating Independance Day starting Sunday July 2nd through Tuesday July 4th, 2017. Plan a full day trip to Six Flags one of these days to enjoy the rides and have family fun at the Park. Six Flags is going to display fireworks every night starting Sunday July 2nd through Tuesday July 4th, 2017.
July 4th Fireworks Schedule around Chicagoland
July 2 – Hoffman Estates – Sears Center 9:30 p.m.
July 3 – Arlington Hts. – Arlington Park Racetrack at dusk.
July 3 – Naperville – Part of RibFest at 9:30 p.m.
July 3 & 4 – Naval Station Great Lakes 4th of July
July 4 – Buffalo Grove at Village Hall Campus at dusk.
July 4 – Chicago – Navy Pier at 9:30 p.m.
July 4 – Evanston – Clark Street Beach 9:30 p.m.
July 4 – Glencoe – Lakefront Park at 55 Hazel Ave 9:00 p.m.
July 4 – Glenview – Gallery Park about 9:15 p.m.
July 4 – Highland Park – Wolters Field at dusk
July 4 – Itasca – Hamilton Lakes after 9:45 p.m.
July 4 – Lake Forest Park – Deerpath Park 9:40 p.m.
July 4 – Lake Zurich at Paulus Park – 9:15 p.m.
July 4 – Orland Park at Centennial Park 9:15 p.m.
July 4 – Skokie Parade and 3D Fireworks – Niles West High School at dusk.
July 4 – Rockford at Davis Park at 9:00 p.m.
You can find other 4th of July fireworks display schedules here.
Fourth of July Parade and Festival in Niles
Village of Niles is planning to start event early at 8:45 am at Notre Dame College Prep located at 7655 Dempster Street. 4th of July parade in Niles will start at Ozark Avenue and will end at Grennan Heights Park – 8255 N Oketo Avenue. There will be grand post-parade celebration featured Children's recreational activities including pony rides, face painting and more.
If yo are planning a trip to Chicago for a weekend other than this 4th of July weekend, then check out my recommendations on top 10 things to do in Chicago. I recommend to buy Go Chicago Card if you are planning to cover multiple attractions during your weekend getaway in Chicago.
Visiting Chicago Soon? Book Your Trip Today at:
- Flights: Priceline, Travelocity, STA Travel (under 26)
- Hotels: Booking.com , Hotels.com, Expedia.com, Tripadvisor, Priceline
- Car Rentals: Hertz, Zipcar, Budget
- Attraction Passes: Go Chicago Card, Chicago City Pass, Book the Best Tours on Viator‎
- Buy Chicago souvenir items: Chicago Bears Fan Shop, Chicago Cubs Fan Club, White SOX Fans, Chicago Blackhawks Fans
- Food Specials: Chicago Steak Company, Chicago Pizza, Chicago Hot Dogs, Restaurant.com
Comments
comments