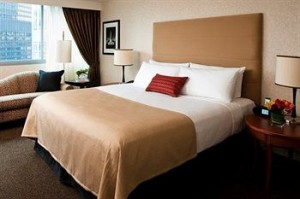 Comparing Chicago Hotels – Secrets you must know when booking Chicago hotel.
By comparing Chicago hotels you can get the best hotel deal in Chicago for your buck. We all know that finding a good hotel in Chicago needs some time but end result will be excellent as you will end up booking a good hotel room in Chicago. You can also read one of my articles "How to find a good hotel in Chicago" to find out steps to find a good hotel room in Chicago. This article gives you tips on comparing hotels.
Chicago hotel comparison you can break into different sections: Location of the hotel, Extra Surcharges & Fees, Hotel Amenities, Online Chicago hotels reviews and break the hotel deal to book a room.
Hotel Location:
While selecting a hotel in Chicago, hotel location matters a lot.  Hotel room rates varies from location to location. If you are planning to stay in or around downtown Chicago then be ready to pay more on hotel booking compare to hotel rooms in Chicago suburbs. There are many top hotels in Chicago loop close to top Chicago attractions and landmarks. People who are looking for a luxurious getaway in Chicago can take advantage of Luxurious hotels in Chicago downtown.
Lakefront hotels are found parallel to Lake Michigan on Lake Shore drive and Michigan Ave in downtown Chicago. Guest can enjoy excellent hotel rooms with lake-view. Lakefront hotel rooms will cost more compared to other rooms in the hotel.
Overall, Hotels in Chicago suburbs are less expensive compared to hotels in the loop. Hotels close to O'Hare International airport as well as hotels near Midway airports will cost more compared to other suburban hotels.  Chicago city and suburbs are very nicely connected with through public transport, rate between $2 to $5. Thus, you can get more cheaper room in suburbs if you decide to pay public transport rate.
Hotel Additional Fees:
The hotel additional fees include extras such as resort fee, parking fee, the use of a fitness center, spa fee on premises etc. Usually resort fee varies somewhere between $5 to $25. Make sure to check the list of free amenities provided by hotels. All hotel amenities are not free especially in downtown Chicago hotels.
Hotel Amenities:
While booking a hotel room, getting the list of hotel amenities is very important. Based on available amenities and your preferred preferences you can narrow down your search. Hotel amenities include breakfast, Wi-Fi Internet, swimming pool, fitness center, room service, in-room appliances, parking, transportation to and from airport and many similar facilities at the hotel.
Make sure to get the list of all hotel amenities and cost detail if there is any involved. Usually Chicago hotels offer free continental breakfast. But few luxurious hotels in Chicago might be charging money for breakfast at the hotel.
Also, if you are planning to stay in downtown Chicago then think twice before renting a car. Considering the parking space limitation and charges, Chicago downtown hotels charge parking fees to guest which might cost you somewhere between $15 to $50.
Read Online Hotel Reviews:
Once you have shortlisted hotels that fits your need and budget, now it's the time to go read online hotel reviews on sites like TripAdvisor. Hotel reviews on TripAdvisor are not always genuine but there is a way to find genuine reviews. Look for the hotel review writers who have reviewed more than 5 to 10 hotels. On TripAdvisor hotel owners might be writing their own reviews and all good things hiding bad part. So, Trust the review written by established writer who has been writing reviews about different hotels regularly.
Found the perfect hotel with great reviews? It may seem like your dream place, but have a closer look at who has written the comments. Travel sites, such as TripAdvisor, do not monitor their reviews so there is nothing to stop a hotel writing its own glowing references. Always look who has posted the review. If it is a new member with only one or two reviews, you can be sure it is a fake. Only trust reviews written by established members with a high number of posts. That way you can be sure it is a real, truthful overview of your potential hotel.
Steps to Shortlist Hotels
Found list of hotels with great reviews and good price using above mentioned comparison steps? Now it's time to compare group of those selected hotels.
Compare any involved additional fees and available amenities. Some downtown Chicago hotels might be charging fitness center fee but same time they might be providing free Internet access and business center access. Based on your priorities you should decide the hotel. For example, if you need to be in touch with work or something through Internet then you might want to book a hotel that provides FREE Internet access.
Also, hotels with free transportation shuttle service to and from airport are good option as well.
Look for plus and minus points about hotels based on your preferences to create your short list.
Break the Hotel Deal:
Now you are done with your hotel research and have short list of hotels you are willing to stay. Check out major hotel booking websites such as Priceline, Expedia.com, Hotels.com to note down the room rates for your travel dates. Now, call hotels and try to negotiate room rates. While talking to hotel front desk clerk or agent get additional details about any manager specials or good deals on hotel upgrades.
Comments
comments