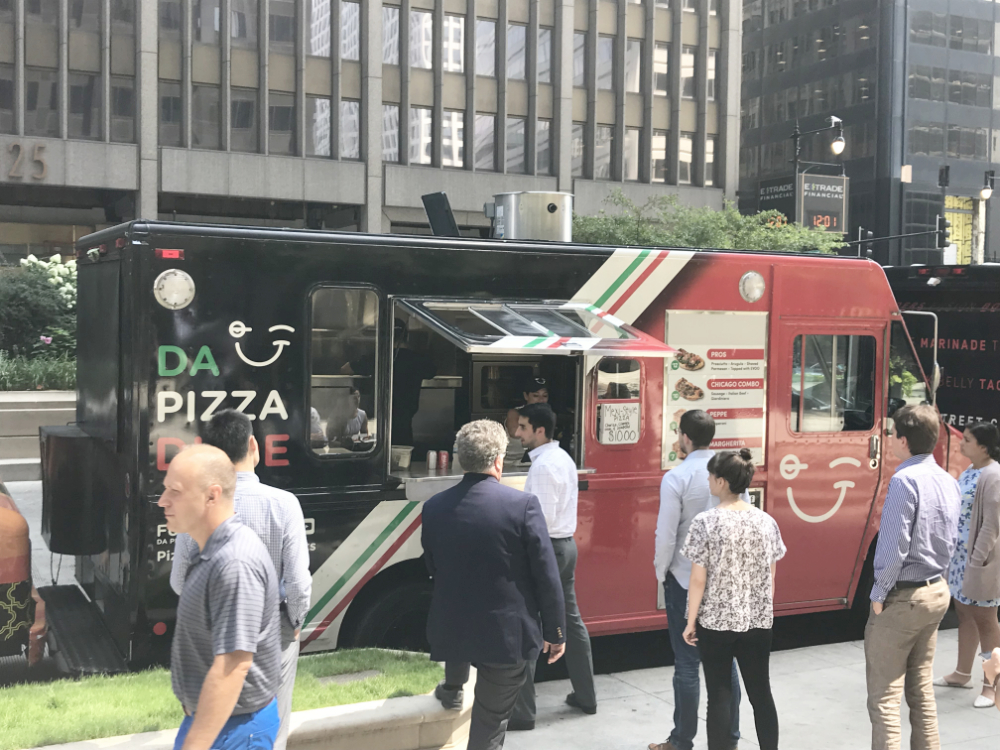 Da Pizza Dude Truck Review – Best Pizza Food Truck on Wacker & Adams
Da Pizza Dude Food Truck, serving authentic Italian-style pizzas in Chicago! I would say one of the best food trucks near Wacker & Adams drive.
Today I made a visit to downtown for some work and ended up eating lunch at Da Pizza Dude Truck on Wacker and Adams. As a whole, Chicago downtown is the place to see live and energetic environment, but food trucks scene was unique and very different.
It was lunch time, so entire food trucks block on Wacker Drive, between Monroe and Adams Drive, was bustling with people. I was amazed to see the lines to get lunch at different food trucks. Quiet impressive, like always Chicagoans love food!
Chicago is famous for Pizza, you may like my reviews on Chicago style pizza places!
I had heard good things about Da Pizza Dude Truck on Wacker drive, and today was the day, I got a chance to try it out! I must say, despite of busy lunch hours, you are assured to get good and fast service at Da Pizza Dude food truck on Wacker & Adams drive in downtown Chicago!
Menu at Da Pizza Dude truck is pretty simple and short, and name says it, pizzas! At Da Pizza Dude truck you can get their 4 standard pizzas and one special, so called Mexican Style Pizza! Their standard menu includes following:
Pros – Made with Proscuitto, Arugula, Parmeson cheese, topped with EVOO
Chicago Combo – Pizza made with sausage, Italian beef and giardiero
Peppe – Pepperoni pizza
Margarita – Veg Pizza made with tomato sauce, mozzarella and basil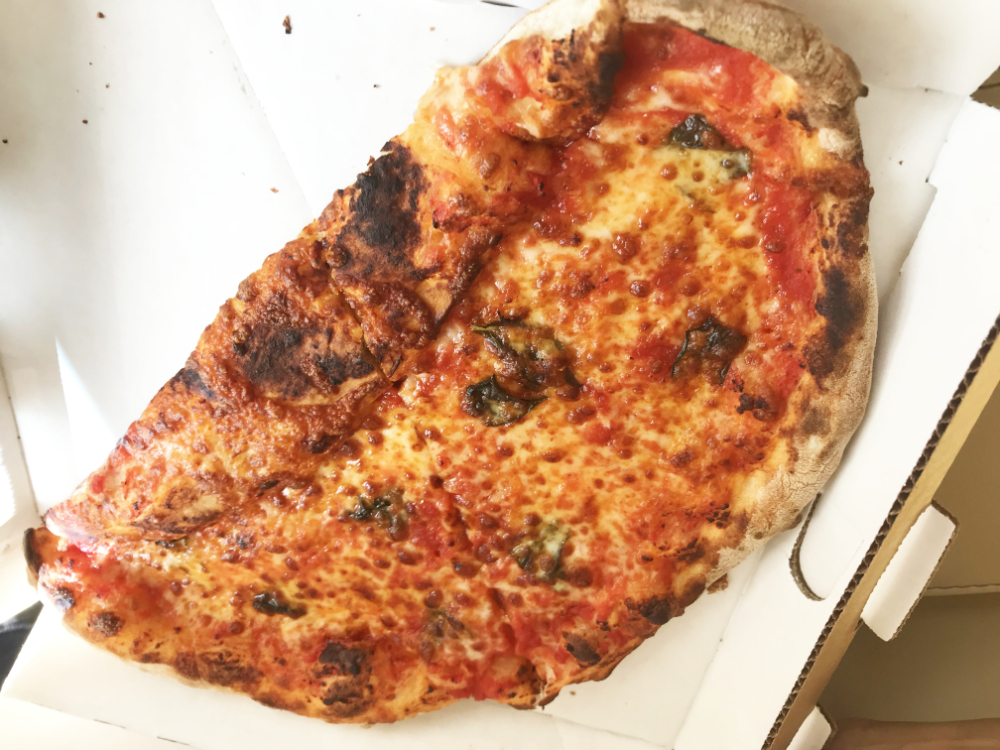 I ordered their classic, Margarita Pizza for the lunch, as it was the only vegetarian option on the menu, priced at $7. I would say, price is reasonable for the portion considering the downtown Chicago.
Waiting period at this Pizza food truck was less than 10 minutes, which was not bad at all, especially it was busy lunchtime. Aroma was already making me hungry!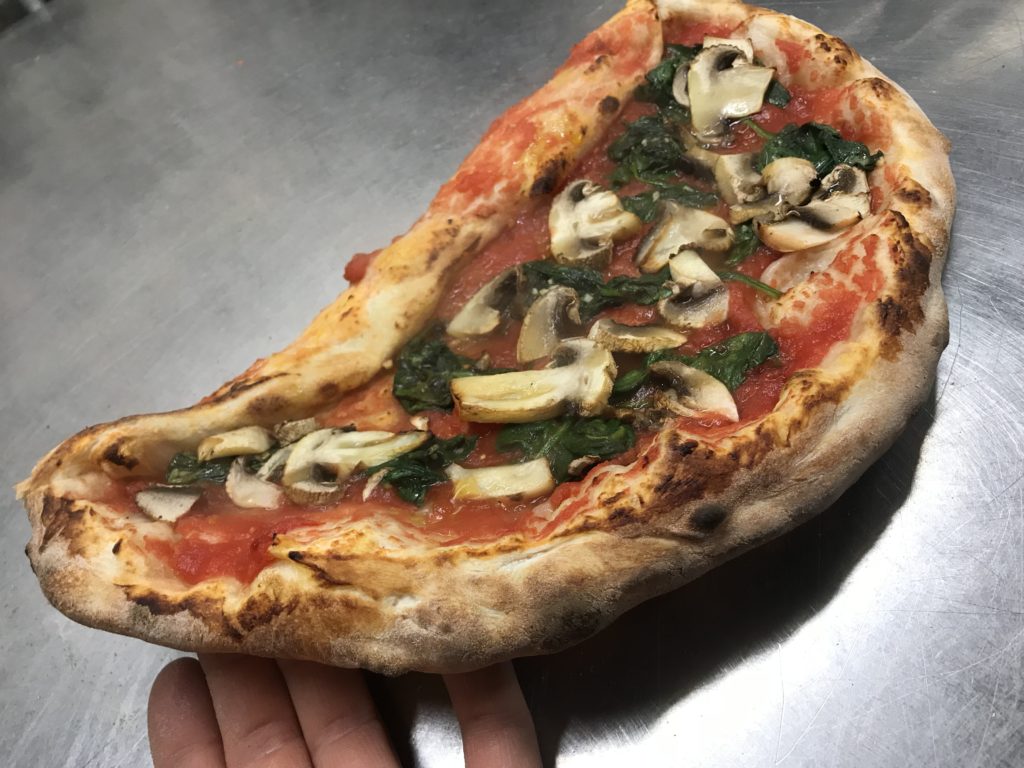 Yumm…my pizza was perfectly made, hot-n-fresh, right there on the food truck from scratch! Yes, all pizza orders are made fresh on the truck.
I loved their tagline about.. pinch..fold…enjoy! Da Pizza Dude's Pizza slice is not your usual pizza slice, their tag line kind of tells you, how to eat their pizza!
Overall, Da Pizza Dude Truck is the place to get great customer service, and most importantly authentic Italian-style pizza in Chicago. I insist you to try their authentic pizza for lunch. Da Pizza Dude truck hours of operations are between 11:00 AM and 1:00 PM.
If you haven't been to Da Pizza Dude truck, then I wouldn't recommend you to order anything else other than pizza! You must order Italian-style pizza!
PS: if you love to explore food trucks then I recommend you to check out popular Chicago food trucks hangout places including Lake/Stetson, Adams/Wacker, Clark/Monroe, and Daley Plaza.
Pin this to Pinterest: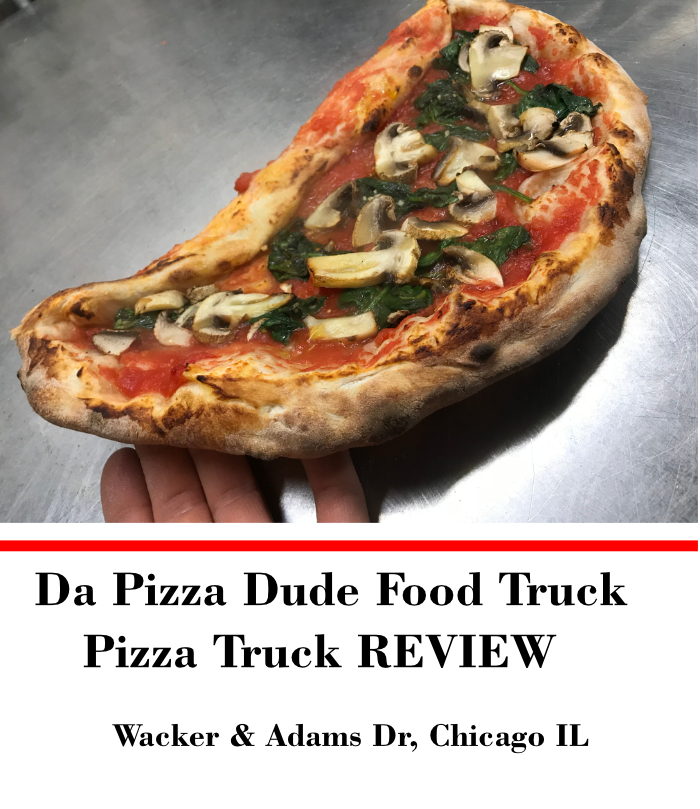 Book Chicago Hotels for Less
Help me out! When visiting local businesses or attractions, be sure to say you found them on Go Visit Chicago!

Thanks for Reading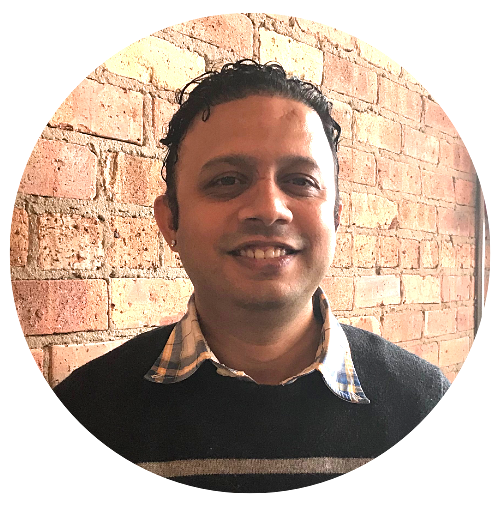 Hi, I'm Victor Sevale - My goal is to share information on everything I see, do, eat and drink in Chicago. Let me inspire you to explore Chicago more with reviews, photographs, and useful tips from my personal experience.
Join thousands who receive exclusive e-mail updates!
8 Reasons to Subscribe
Like This Post? Share It on Social Media!
Comments
comments