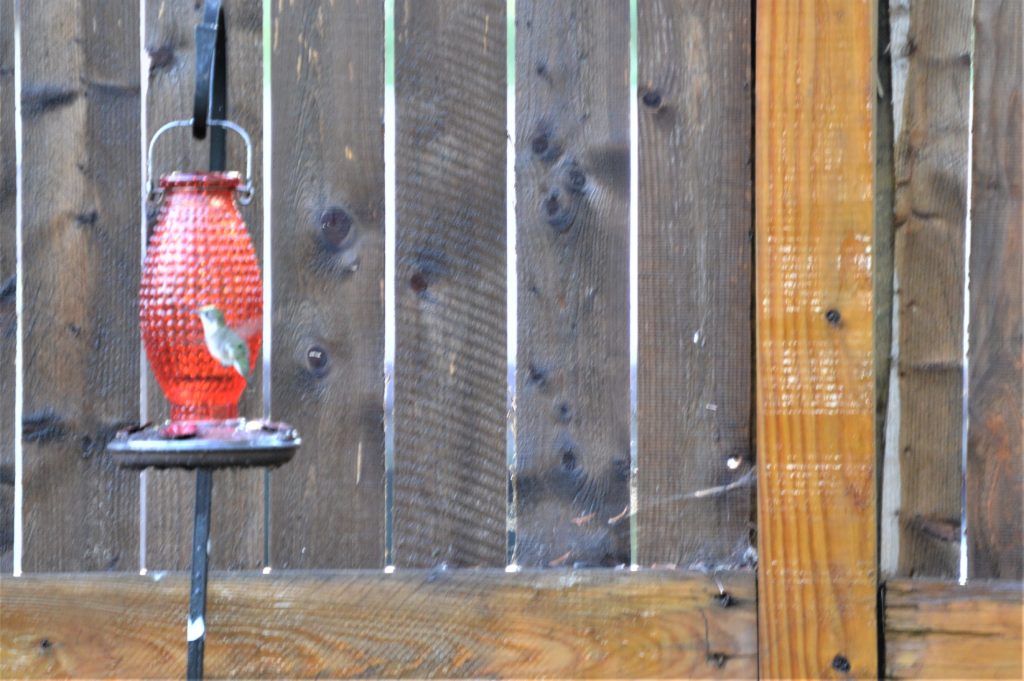 Being birdwatcher, I can spend hours in yard watching birds. Hummingbirds are my favorite among all wild yard birds! Hummingbirds arrives in Chicago during mid-late Spring season, considering that I have these hummingbird feeders out since early spring seasons – first week of April, to welcome hummers in Chicago. Believe me, it's fun to watch hummingbirds flying in yard and around feeders. Now, as fall is approaching, my yard is frequently visited by young hummingbirds for nectar from flowers and hummingbird feeders. Overall, Hummingbirds season in Chicago starts in spring through early fall season. Out of all species of hummingbirds, only Ruby-Throated Hummingbirds are found in Chicagoland. Hummingbirds mainly live in North and Central America and migrates from south to north during summer season and migrate back to Central America during early fall season.
Amazing Facts about hummingbirds….
Fly alone during migration, not in group
Non-stop fly alone across Gulf of Mexico more than 500 miles at night
Juvenile birds find their way to winter grounds of their ancestors
Male doesn't help raising young, odd isn't it?
It's very easy to distinguish male hummingbirds from female hummingbirds. All ruby-throated male hummingbird has neck markings. Regardless of neck markings, both male and female hummingbirds have a pale green color belly and bright green back.
Why hummingbirds migrates towards North?
Hummingbirds migrate towards north to breed and feed during summer season and returns back before fall season. You will be surprised to know that most of these little fellas cross Gulf of Mexico in one single nonstop fly! Yup, ruby-throated hummingbirds fly more than 500 MILES nonstop to Mexico! Journey over the Gulf of Mexico is completed mostly at nights by these tiny birds. Some ruby-throated hummingbirds fly along the coastline, that takes them longer to reach their destination compared to flying over the Gulf of Mexico water.
It's amazing to know that female hummingbirds arrive first to pick the nesting site before all male hummingbirds arrive for the season. Surprising fact is that no child support applies to male hummers, yup, male does not help female raising young hummingbird. Female hummingbird raises the young and stay away from male's feeding territory.
During early fall season hummingbirds start their journey towards south. Juveniles hummingbirds are the last one to leave Chicago as they stay little longer to energize themselves with nectar from flowers and hummingbird feeders for their one long flight to Central America. Like I said, longest flight for them is non-stop fly across Gulf of Mexico. Sometimes male hummingbirds start their migration early during first or second week of August.
Hummingbirds migrate alone! Mother nature is amazing, I was surprised to know that young hummingbirds, who are born in north, have never been to their ancestor's winter ground. But, still young hummingbirds find the same routes to winter grounds of their ancestors! Pretty AMAZING!
How to attract Hummingbirds to Your Yard
Hummer's main diet includes nectar of flowers. There are certain types of flower plants that can attract these little friends to your yard. These tiny little birds are fun to watch in yard, but they expect some work on your end! Yes, you need to put some efforts to bring hummingbirds to your yard.
Plants to attract Hummingbirds
Hummingbirds love nectar of flowers. Plant lot of flowering plants in your yard, among all flowering plants, hummingbirds tend to get attracted more towards following plants. By planting few of following will draw hummingbirds to your yard easily…
Bee Balm
Red Columbine
Trumpet Creeper vine
Honeysuckle vine all kinds
Cardinal vine
Petunia – Annual
Lantana and fuchsia
Feeders for Hummingbirds
I insist everyone to hang feeders starting early spring season through October first week. Why? Hummingbirds need energy during entire migration process, from migrating north through returning back to their winter grounds in Central America. When hummingbirds arrive in Chicago during early spring season, they are tired with the long journey and starving. We know our windy city weather, we may have longer cold days through early spring season, that may slow down spring flowering. Main source of energy is nectar of flowers! Hummingbird feeders are the best way to provide additional source of nectar for newly arrived hummingbirds to keep them around your yard in Chicago.
Same way, it is better to keep cleaning and refilling feeders often, I would say every two weeks throughout summer to make sure hummingbirds keep getting clean nectar in diet during breeding season, in case there are not many flowering plants in the area.
During month of August, hummingbirds start migration towards south to their winter grounds in Central America. They start to prepare themselves for the long journey to fly across Gulf of Mexico. Make sure to keep feeders full of nectar, as it will be helpful for tiny birds to get necessary energy for their migration, especially to young birds.
If you are not birdwatcher then it may not interest you much, but still I insist you to hang feeders in your yard.
Where to buy Hummingbird Feeders?
I bought hummingbird feeders online at Amazon.com and one from local Home Depot towards the end of summer season. Yes, keep eye on end of the season sale at your local stores to get the best deals on hummingbird feeders.
You can buy hummingbird feeders towards the end of summer season for very lowest price for next spring season, as local stores will try to get rid of inventory before fall season. You might find better deals in local stores compared to online during end of summer.
Hummingbirds are attracted to red bright color so try to get feeder with bright red color.
There are different kinds of hummingbird feeders available in market. I recommend you to buy feeders made with glass vase in red color. Glass feeders are easy to clean and maintain compared to plastic feeders.
Following is one of hummingbird feeders in my yard. I bought this Perky-Pet Red Hobnail Vintage Glass Hummingbird Feeder in 2015 and still like new. Just make sure to bring them inside before first day of fall season in Chicago 🙂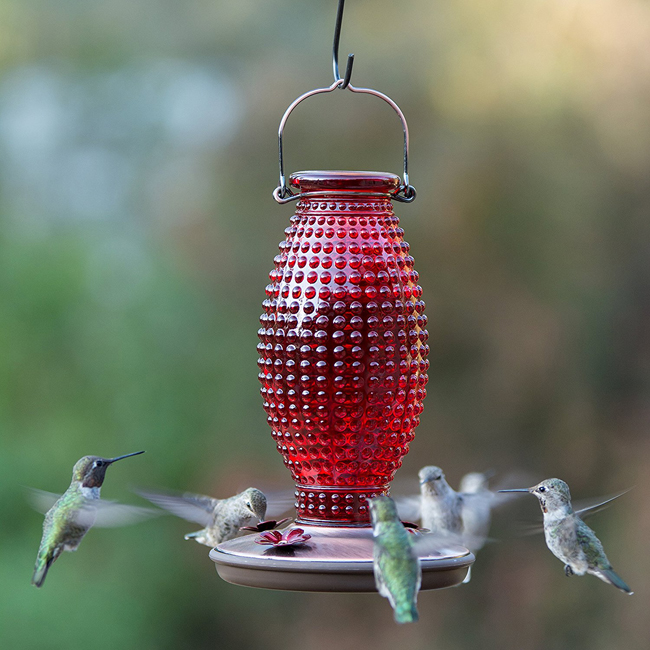 Hang feeders in the shade if possible rather than under direct sun. Feeders hanged under direct sun require frequent changes. I recommend hanging it near a window so that you can watch the birds eating nectar from feeder.
How to make nectar for hummingbird feeders?
There are two options to make nectar for hummingbird feeders. You can either purchase ready to use nectar or make your own nectar.
Ready to use nectar comes in two forms, one that you can straight pour into feeders and second in form of concentrate that requires mixing of water. You must follow instruction provided on the bottle to make perfect nectar. If you do not like to make your own nectar for feeders then I recommend you to buy Perky-Pet hummingbird nectar! You can buy Perky-Pet hummingbird nectar online at Amazon.com or at your local stores.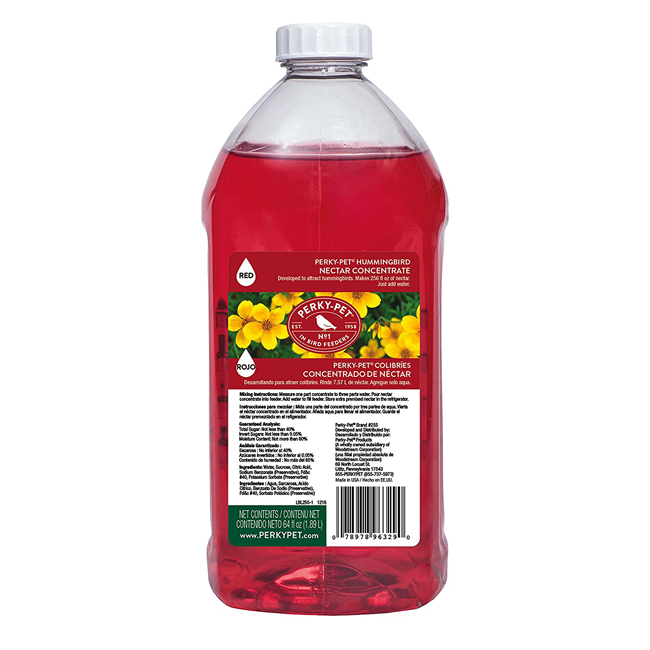 I usually make my own nectar. It is very easy!
Step 1: Get 1 part sugar and 4 parts water into two separate container.
Step 2: Bring water to boil and remove from the heat
Step 3: Mix sugar into water and stir until sugar is mixed well. DO NOT MIX COLOR TO MAKE IT RED – That's why I recommend you to buy hummingbird feeders with red glass vase
Step 4: Let water cool down to room temperature before filling up feeders!
Step 5: Please make sure to change nectar and clean feeders with warm water to avoid any bacteria or yeast formation with sugar to protect hummingbird's health!
Enjoy watching hummingbirds in Chicago!
Comments
comments