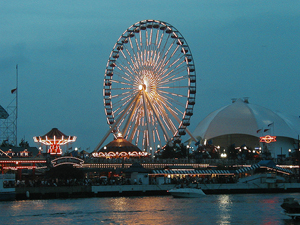 Navy Pier Ferris Wheel Chicago
Navy Pier is undoubtedly one of the most important attractions and signature landmarks of this city. History of Navy Pier started in early 1900. Built in 1916, this impressive 3,300 foot long pier is today a bustling entertainment venue offering a combination of carnivals, rides and attractions, food court, boat dock etc.
There is so much to do and see that it is easy to get confused and lost in this bright and colorful wonderland. If you are visiting Navy Pier, then your first stop should definitely be the Pier Park. Situated on the upper deck, this landscaped area features a Navy Pier Ferris wheel, a charming musical carousel, a traditional swing and even an 18-hole miniature golf course. The seven minute ride on the 150-foot high Ferris wheel will not only provide you with an exhilarating experience but it will also allow you to enjoy unmatched views of the Chicago skyline and the Michigan Lake.
Made out of 36-hand painted animals, the Musical Carousel recreates the magic of the golden age of 1920s and gives your children a chance to experience the glory of a bygone era. While your kids enjoy the exciting rides, you can always play a game of golf at the miniature golf course.
If golf doesn't interest you, then a visit to the Smith Museum of Stained Glass Windows is a must. Here you can get to see more than 150 stained-glass windows that are displayed against illuminated cases. The museum is truly remarkable and features works by Frank Lloyd Wright, John LaFarge and Louis Comfort Tiffany.
Chicago Children's Museum is situated right on the Pier and offers a blend of interactive exhibits thereby encouraging children to learn in an entertaining and a fun filled environment.
More fun and adventure await you at the Amazing Chicago's Funhouse Maze and Transporter FX. You get to enjoy a truly exhilarating experience as you twist and turn and navigate your way through the 4000 sq ft of the exciting Funhouse Maze. Alternately, you can notch up your thrill level at the Transporter FX. Here you can enjoy high-speed ride to the Antartica, the Moon, Wild Africa or even choose to race in the Grand Prix. Whatever option you may pick, you are guaranteed to feel the thrill and excitement of the ride.
After all the exciting rides, you can opt for a guided tour of the lakefront on a Segway. The Segway-authorized touring company conducts tours that start from Navy Pier and heads north, passing through the beautiful Gold Coast neighborhood and reaching the historic Drake hotel.
Besides the various interesting rides and tours, the Pier also offers immense possibilities for dining and shopping. The food court in the Family Pavilion is open year round where you can sample an array of delectable delights. You can also try out any one of the popular restaurants such as the Billy Goat Tavern, Bubba Gump, Dock Street Café and Harry Caray's Tavern.
Shopping is always fun on a full stomach and Navy Pier offers quite a few interesting options where you can spend to your heart's content. It is one of the best places to take back home a little souvenir as a memento of your unforgettable experience.
Finally after a day of fun, thrill and adventure, the best way to round up your visit to Navy Pier is to watch the magnificent display of fireworks. A sight so amazing, it will surely stay with you forever.
Navy Pier Park Chicago Tickets Discount & Coupons:
FREE Access With Go Chicago Card


Cost without the go Chicago card:
Adult $15.00, Child $15.00
Operation Hours:
April-October: Hours change seasonally.
Closed on thanksgiving and Christmas days.
Navy Pier
600 East Grand Avenue
Chicago, IL 60611
Phone: 800-595-PIER
www.navypier.com
Related Posts on Chicago Things to Do:
Comments
comments