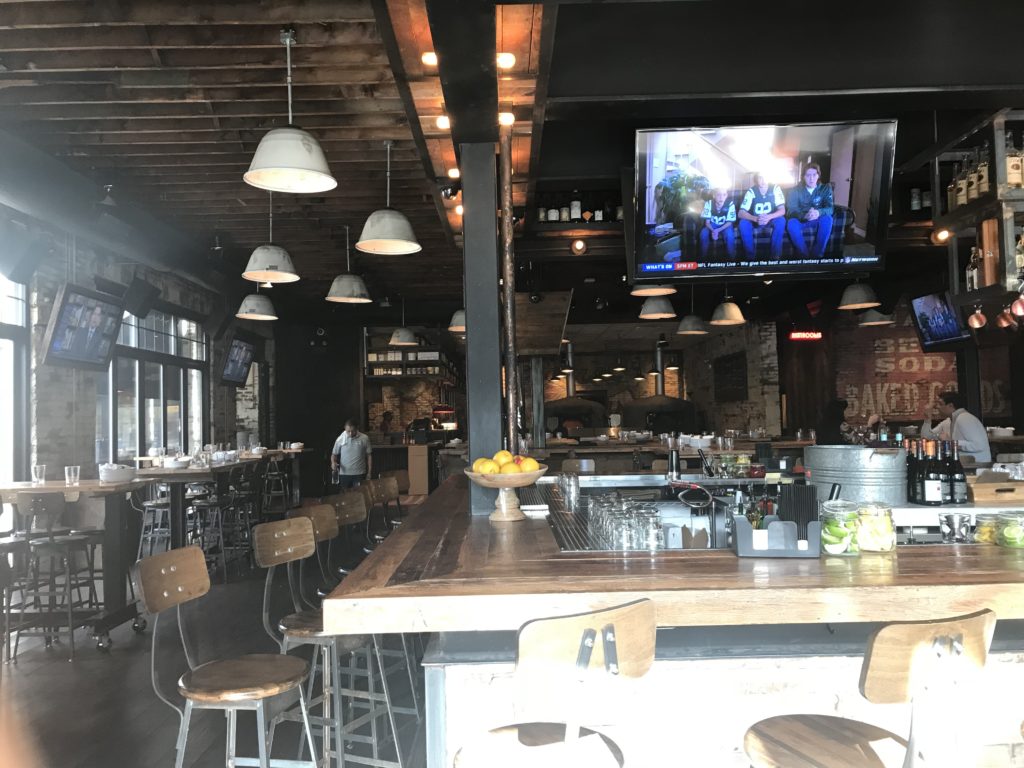 Parlor Pizza Bar in Wicker Park, one fine hangout place featuring industrial-decor with burned brick wall, offering wood-fired pizza pie and craft beers. I must say, place has elegant decor and ambiance for casual hangout. I would say perfect for night out with friends for happy hour and watching a game in Wicker Park. During summer season you can take advantage of outdoor seating area and second level deck for dining and hanging out with friends for cocktails.
Have you been to Parlor Pizza Bar in Wicker Park? If yes then click here to share your Parlor Pizza Bar review!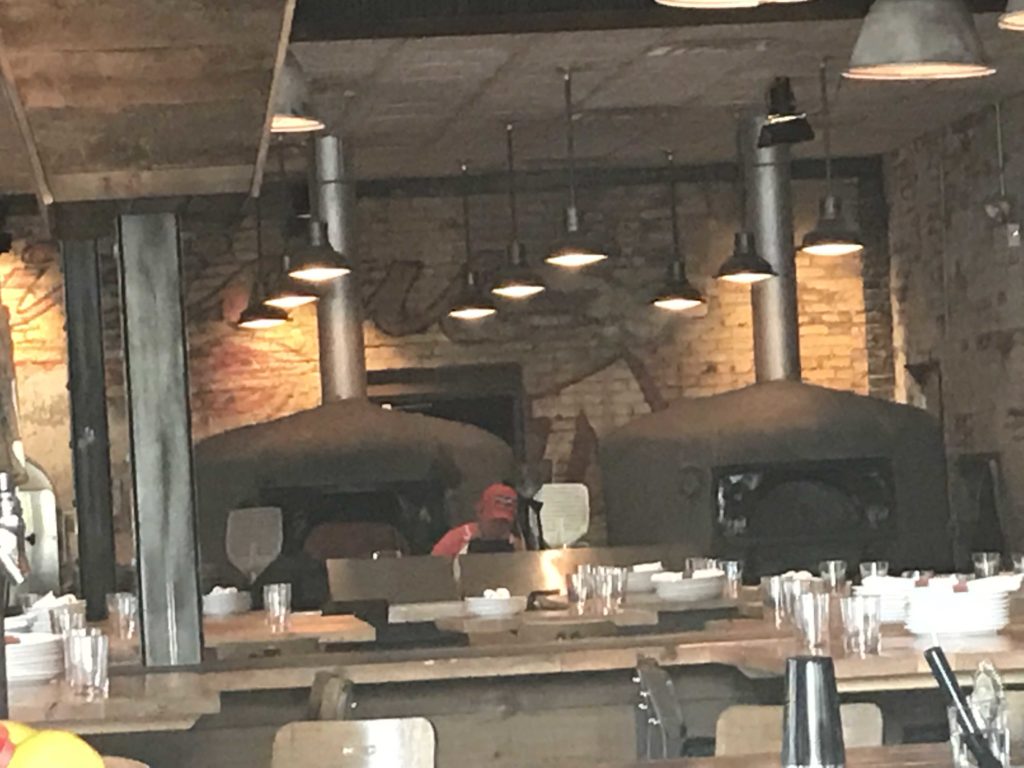 Considering my work schedule most of the time I end up eating late lunch. As usual, I went for late lunch at Parlor Pizza Bar on Division Street. First impression was excellent, atmosphere was very welcoming and restaurant attendant was very polite and lead us to table. Very courteous and polite service!  Place was not crowded at all, maybe I was late for the lunch!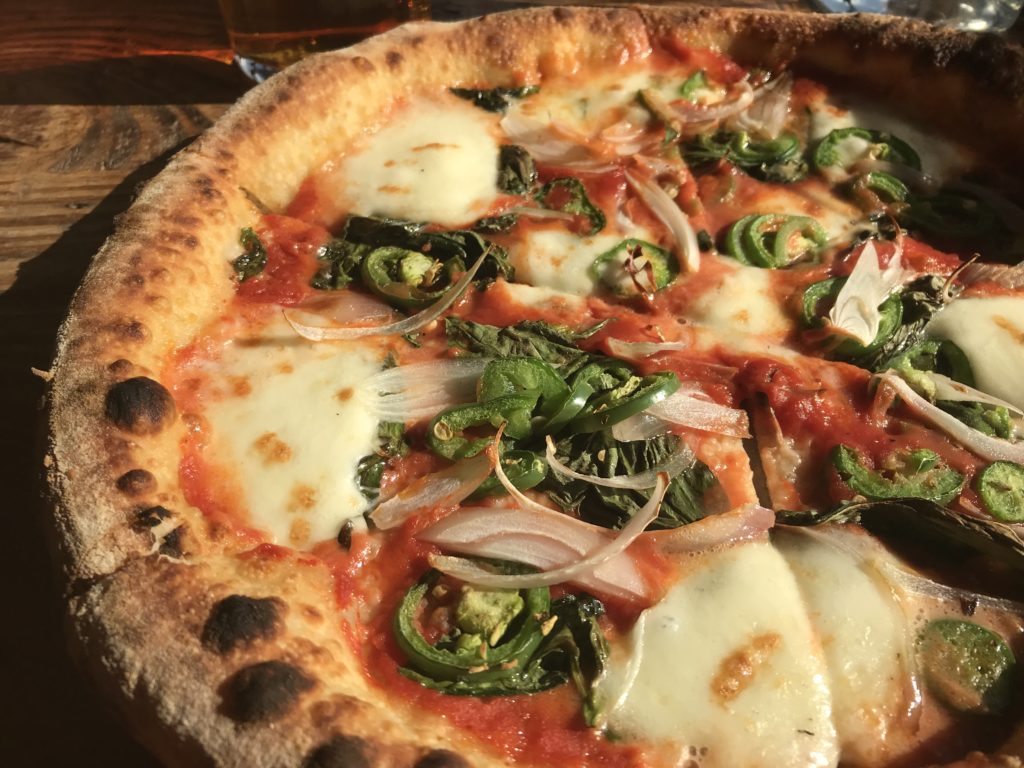 Parlor Pizza Bar – Perfect for Pizza with Craft Beer
Parlor pizza bar menu is different for brunch, lunch and dinner. Parlor Pizza Bar menus are mainly offering different kinds of pizza pie and extensive list of craft beers and cocktails.  Let me warn you, it is very easy to get confused with so many items on Parlor Pizza Bar menu. Their lunch menu is divided into four different sections – "Parlor Pizza Packs", "Pre-Pizza", "With Pizza" and "Not-Pizza".  Each course menu is designed differently with different kinds of menu items!
Our table server, Cristal, was very polite and friendly. She helped us understanding their menu for pizza pack. She also recommended several craft beers out of all I ended up ordering pint of Revolution Anti-Hero IPA – 6.5% pint featuring crisp bitterness with the hint of floral and citrus aroma.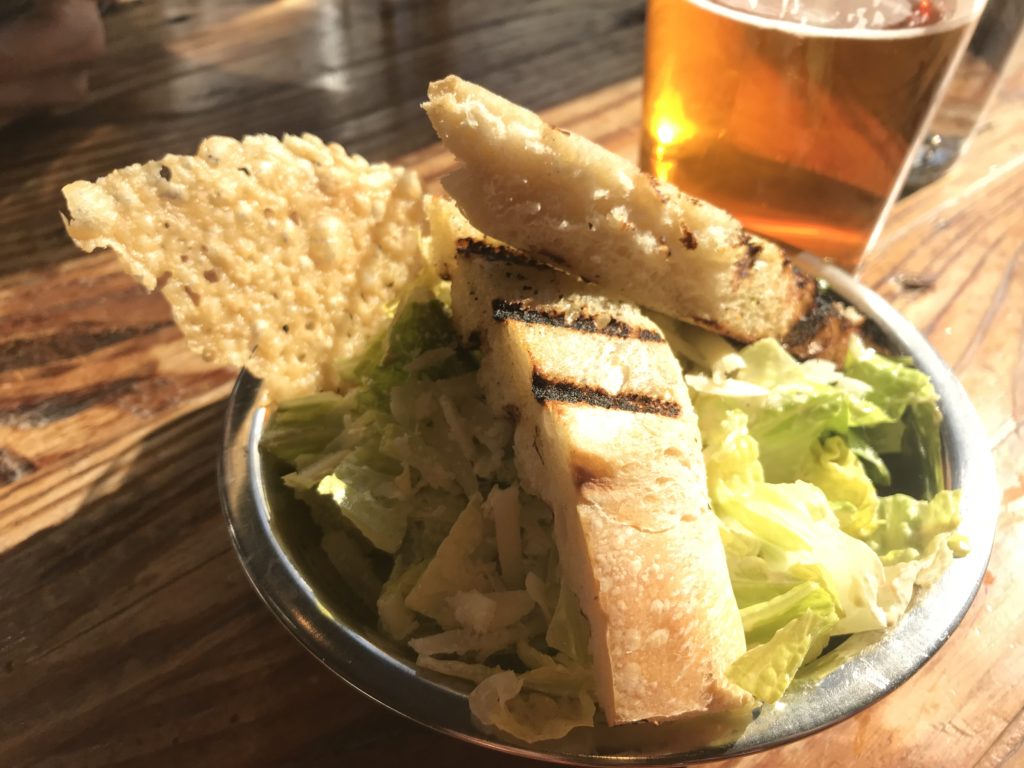 I ordered 13" Margherita wood-fired pizza pie that comes with six slices and one side of salad. I picked Caesar salad for the side. If you order just Margherita pizza pack then it comes with only San Maromo tomato sauce, fresh mozzarella, virgin oil and fresh basil. I added jalapeno and red onion as extra toppings on my pizza.
We didn't have to wait too long before we got our food. Caesar salad came first before we got pizza. Caesar salad came with romaine lettuce, parmesan cheese and dressing along with bread pieces. It was pretty simple salad! It was not great as per my expectation. Caesar salad was missing eggs, I believe they should have put some eggs in salad. Oh well, I was not there just for salad so salad without eggs didn't kill my lunch.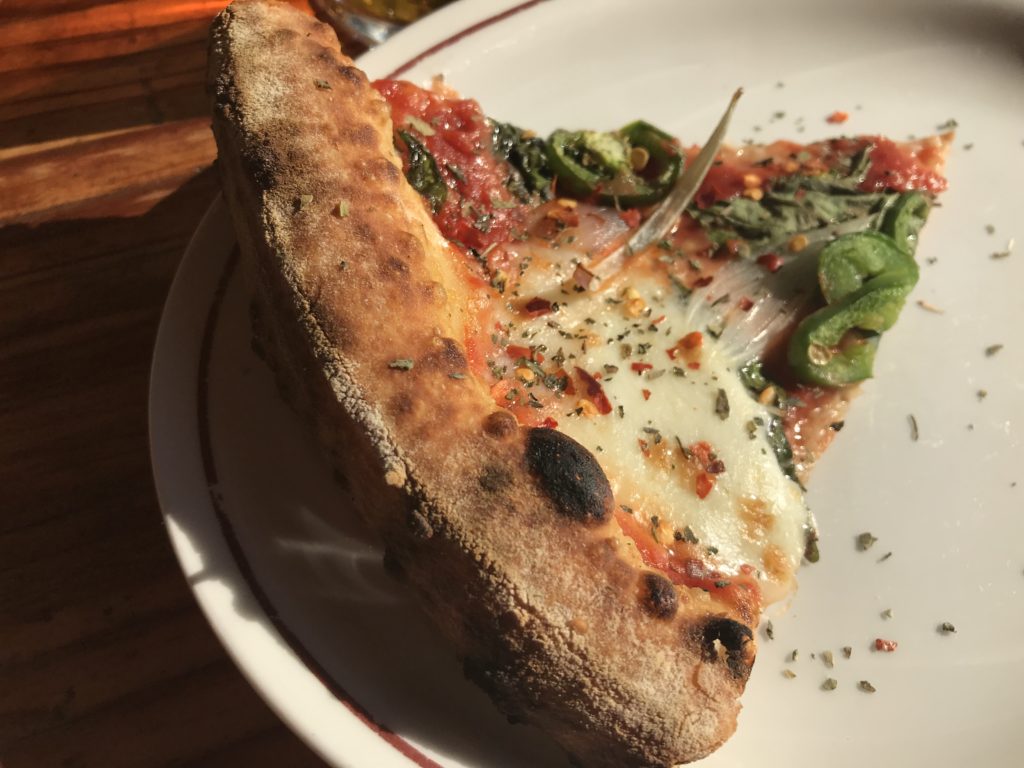 Margherita wood-fired pizza was made with all fresh ingredients and came straight from wood-fired oven. Pizza crust was thin and crispy… kind of very easy on stomach. I liked the presentation of pizza and side ingredients – crushed red peppers, oregano and parmesan cheese. It was not typical Chicago-style pizza! Kind of unique pie crust. You can smell the fresh aroma of wood-fired oven on pizza crust.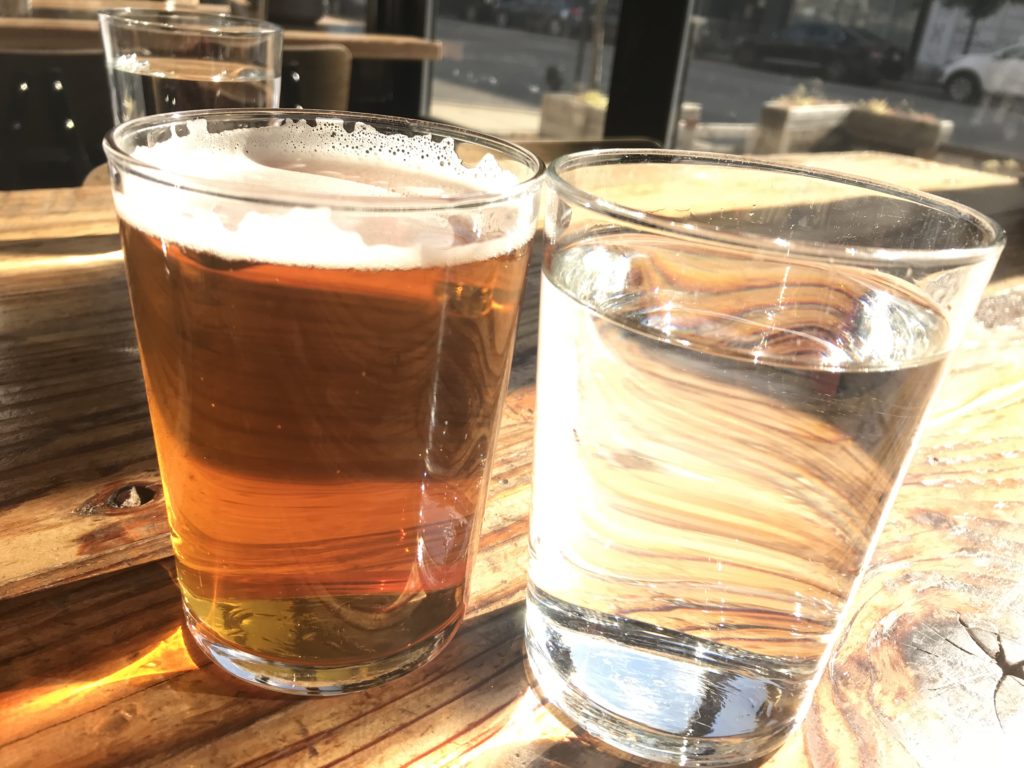 Food quality was good for the price we paid. $12 for 13" pizza and side of salad with extra $1 per topping. Not bad at all! Also, my Revolution Anti-Hero IPA pint wasn't that expensive, cost me $6.  Before we got the menu, I was guessing high price on menu items by just looking at the surrounding Industrial-chic modern ambiance, but I was wrong, cost of food and drinks are not bad at all for the location! We paid $22 for entire order, it was more than enough food for two people.
Overall, food quality and price is good at Parlor Pizza Bar in Wicker Park. For the price I paid, I already forget that my Caesar salad didn't have eggs! 🙂
Pizza Parlor Bar in Wicker Park is located at 1824 W Division St, Chicago, IL 60622. They also have another location in West Loop at 108 N Green Street, Chicago, IL 60607.
Being close to my work, I am definitely looking forward to go for happy hour drinks and dinner to try their "build your own pizza" when next time I visit Parlor Pizza Bar in Wicker Park. I would also don't miss a chance to mention that one morning it was fun to grab a cup of coffee at Caffe Streets coffee place in Wicker Park.
Comments
comments