Coalfire Pizza Chicago Review – Best Woodfire Thin Crust Pizza
Coalfire Pizza Chicago, I must say, name says it, when it comes to woodfire thin crust pizza in Chicago then Coalfire is one of the best woodfire pizza restaurants in Chicago! They have two locations in Chicago land, one in West Town and second in Lake View. I visited their West Town location.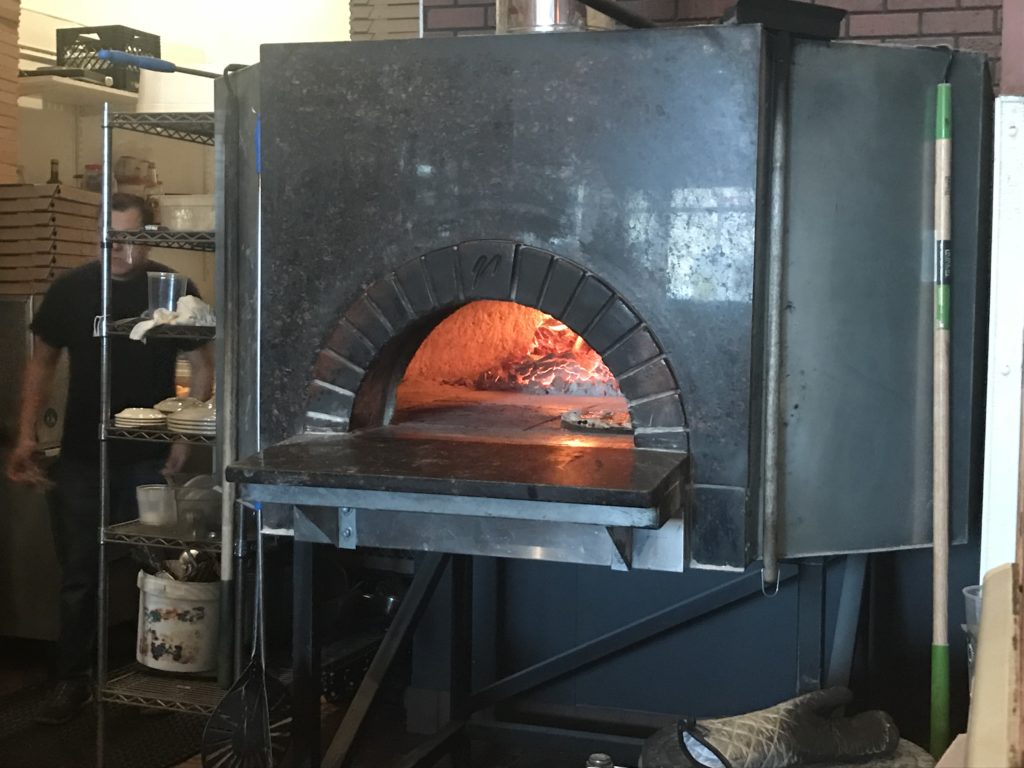 Let me warn you about parking if you are driving! Yes most important, if you drive to Coalfire Pizza Chicago in West Loop! Be ready to drive around for parking. You may find plenty of parking nearby in neighborhood, but they are all permit parking, so do not forget to check signs before you park your car, your car may get towed!
Have you been to Coalfire Pizza Chicago in West Loop? Click here to share your review here!
After 10 minutes of driving around the place, I finally found parking on Grand Ave. Long story short, I recommend you to look for parking on Grand Ave without wasting time by driving around the neighborhood streets.
Like Woodfire Pizza? Buy Wood Fired Pizza Oven at amazon.com
Click here to buy wood fired pizza Oven
As a whole, what I have noticed, Coalfire Pizza Chicago is packed with customers from neighborhood who walks to restaurant. But, if you are ready to drive around for a parking then I must say you must try Coalfire Pizza.
Truthfully speaking, it has become my favorite neighborhood woodfire pizza place, offering great thin crust pizzas made with perfection and delicious sauces along with unique combination of toppings. Aroma of woodfire pizza is amazing!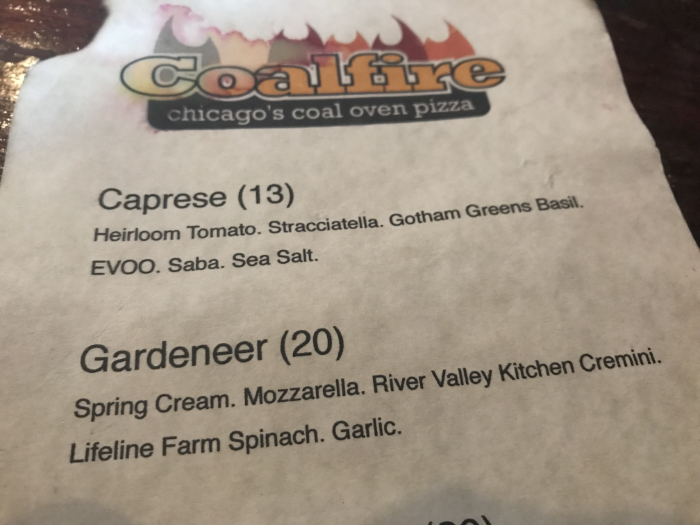 Coalfire Pizza menu is mainly focused on pizza, of course, but they also serve salad. Why anyone would will go for other than pizza, if eating out at Coalfire pizza, it has to be woodfire thin crust pizza, I insist.
At Coalfire pizza Chicago, staff is very friendly and courteous. I can't complain about customer service, as it was excellent. It was my first time at Coalfire Pizza so I had many question about the place and their menu, but our server was kind enough to take time to explain the menu in detail and suggested few options.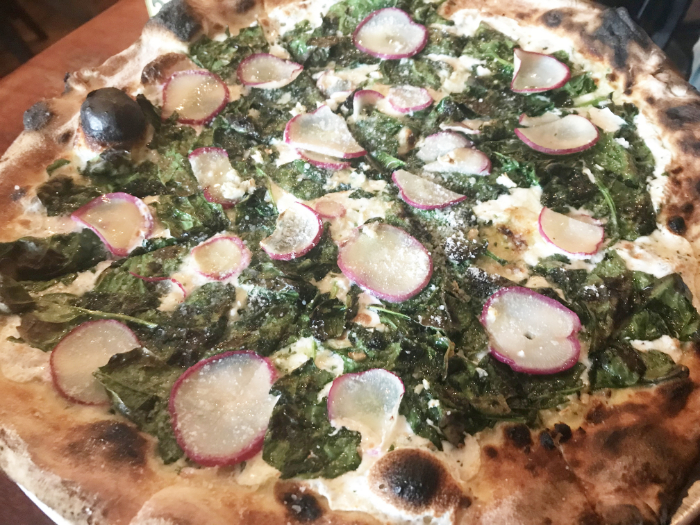 You have an option to build your own pizza or go with the one from menu. I was in mood for vegetarian pizza, so I ordered their Gardeneer pizza from the menu. We had to wait little bit as expected because of woodfire oven pizza, made by order. It was expected so didn't bother me, but I must say, it was not that long wait at all. They also serve local beer, so I went for 312 beer which was not a bad idea while waiting for the pizza.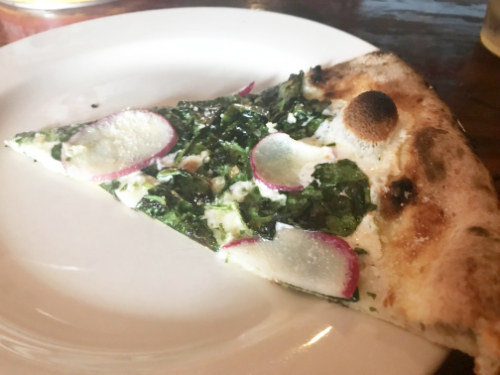 My Gardeneer pizza was amazing, made with their spring cream mozzarella cheese, river valley kitchen cremini, radish, spinach and garlic. It was fresh off the woodfire over, smelling really smoky good! Aroma was excellent, it's think pizza, so in my opinion you need one pizza for two people if you are not supper hungry.
It was good to know that at Coalfire pizza, all ingredients are sourced from local artisan butchers and growers, who pride themselves on providing hormone free, humanely raised meats, and organic, non-GMO fresh produce.
Overall, Coalfire Pizza Chicago is one of the best woodfire pizza place in Chicago. Coalfire Pizza in West Loop is located at 1321 W Grand Ave, Chicago, IL 60642
If you love Chicago Pizza then you may also want to read Parlor Pizza Chicago review and Piece Brewery and Pizzeria review!
Pin it for later!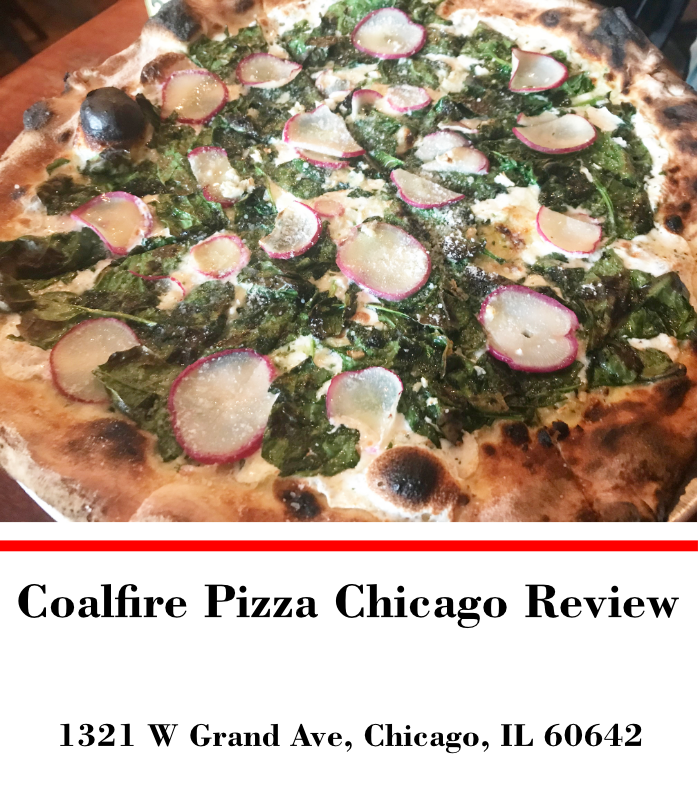 Comments
comments