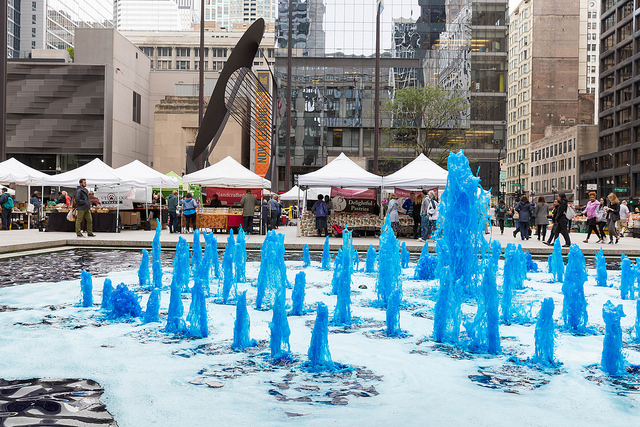 Are you looking for the list of things to do in winter in Chicago? Nothing to worry ! 🙂 In this article, I am going to give you the list of things to do in Chicago in Winter to help you plan your winter full of fun. I also recommend you to pack your bags with appropriate clothes and accessories, while planning a trip during winter season.
Chicago city offers plenty of things to do and see. As Chicago city has famous attractions and activities, every year during Spring and Summer season thousands of travelers fly down to Chicago for vacation across from US and overseas.
As a whole, winter months are very cold in Chicago. Being located right on the Michigan lake, Chicago city is very well known for the extreme weather and wind conditions. Wind coming from Lake Michigan drops the temperature drastically. Generally, winter months, starting from October end through April month are not vacation friendly but still holiday travelers consider Chicago as one of the best winter vacation destinations. I would say budget travelers must consider winter months for cheap Chicago vacation. Pack your bags with proper winter cloths and you will enjoy the Chicago city.
Of course, spring and summer months are crowded with travelers but winter months are travel deal breakers. During peak season you will end up spending more on airfare and hotel rooms. But, you can get the best Chicago vacation package deals during winter months – December through March. You will be surprised that there are plenty of places to eat, drink and many things to do in Chicago in Winter.
Following list of things to do in Winter in Chicago will give you idea about planning a trip to Chicago.
1) Museums in Chicago
Chicago is famous for world renowned great museums. If you are inside the museum then you do not have to worry about cold weather. Also, during winter months many museums offer FREE admission that includes the Shedd Aquarium, The Field Museum of Natural History, Museum of Science and Industry. I recommend you to check with museums for FREE days before planning your trip to Chicago in winter.
>> more on museums in Chicago
2) Free Ice-skating in Millennium Park
At Millennium Park you can take advantage of the McCormick Tribune ice rink without any cost. If you do not have skating gears then you can rent them at the place for low price. Free access to Ice-Skating rink starts from late November through mid March. The ice rink is scheduled to be open from noon to 8pm every day. As you are already at the ice rink, do not forget to check out bean shaped metal sculpture in Millennium Park.
3) Sightseeing tours in Chicago
There are many sightseeing tours in Chicago which operates year round even during winter. Chicago's hop-on hop-off bus tour is one of those tours that can take you around to top Chicago attractions. These buses are comfortable and heated to keep you warm from the cold. Also, most of all cruises including Odyssey and Mystic Blue operates during winter months with limited scheduled departure. I recommend you to check with cruise line directly before planning a trip to Chicago in winter.
>> more on sightseeing tours in Chicago
4) Lincoln Park Zoo Lights
The Lincoln Park Zoo is one of the largest zoos in US that offers free admission. You and your family can plan a trip to the zoo for entertainment and end your day with scenic lights at the zoo. During winter, zoo is open until 9 pm on selected dates. I recommend you to check with the Zoo directly before planning a visit for holiday lights watching.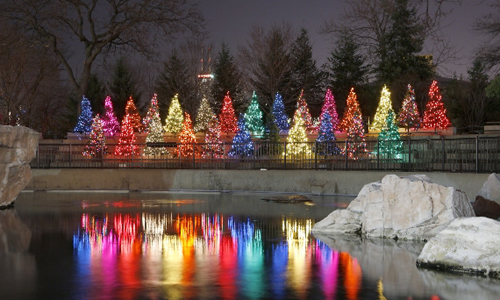 5) Theatre and shows in Chicago
Chicago is the land of theaters. There are many theaters in the Chicago city which runs shows year round. Based on your mood and taste you can entertain yourself by attending one of the shows: musical, drama, comedy, ballet and many similar. If you have not seen Blue Man Group show yet, then I would recommend you to go for the Blue Man Group show in Chicago. I would also vote for Tommy Gun's Garage Show to experience the old days of speak easy bars 😉
>> more on Chicago Shows
6) A Carriage Ride on Michigan Avenue
Walking on Magnificent Mile or so called "Mag Mile" is one of the best experience in Chicago.But cold winter may not be good for walking on the Magnificent Mile. It is a good idea to get a carriage ride on Michigan avenue that runs through the Gold Coast. These horse drawn carriage rides are scheduled to run year round in downtown Chicago except extreme weather conditions.
Following are carriage ride rates for 4 passengers:
$40 – 30 Minutes Ride – Inner City, Michigan Ave OR Lake Ride
$60 – 45 Minutes Ride – Inner City & Michigan Ave OR Michigan Ave & Lake Ride
$100 – 1 Hour Cardinals Mansion Ride – North State St, Cardinal Mansion, Astor St, Lake Shore Dr & Michigan Ave (after 6:30pm)
7) Winter WonderFest at Navy Pier
Navy Pier is one of the best place for family fun in Chicago. During winter months, starting from December  through January first week, Winter WonderFest takes place at Navy Pier. During the fest your kids can enjoy tons of fun things to do including Ferris Wheel, Carousel, skating rink, train ride and climbing wall. If you are Go Chicago Card holder then you get five rides for free with the go Chicago card purchase.
>> more on go Chicago Card Discount
8) Cross Country Skiing and Snowshoe
Cross Country Skiing and Snowshoe activities are held at the Northerly Island, 91-acre man made peninsula, near Adler Planetarium. These winter activities depend on few inches of snow. So, all Chicago locals or Chicago travelers may plan to participate in cross country skiing and snowshoe after few inches of snow in Chicago. By the way, you can enjoy the scenic Chicago skyline from the northerly Island and have perfect photo for your frame.
9) February Restaurant Week in Chicago
During end of February month, participating top restaurants offers $22 special lunch and $32 special dinner menus as part of restaurant week. You can take advantage of restaurant week in Chicago to visit expensive restaurants which you cannot afford during regular days.
As you know, there are plenty of things to do in winter in Chicago, get ready to plan your winter in Chicago full of fun. Do you know any winter activities in Chicago? Share your favorite things to do in Chicago in winter.
Comments
comments